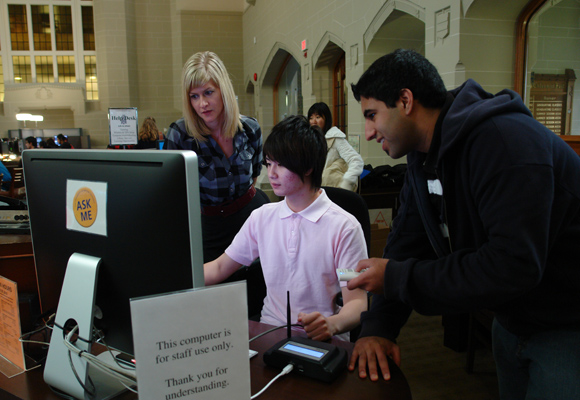 The Centre for Teaching, Learning and Technology collaborates with three partners (UBC IT, Student Development and the Library) to program the Chapman Learning Commons Help Desk. Housed on the third floor of the Irving K. Barber Learning Centre in the Chapman Learning Commons, the Hub provides technical support and learning assistance for both students and faculty.
For students, the Help Desk is a place to ask questions about incorporating various learning technologies into their courses. For instructors, it is a way to obtain support with technical questions around specific learning technologies. Staff members are available to address various questions around connectivity, networking, and tool use.
The Tech Express Series (offered in partnership with the Learning Commons) offers an informal venue for workshops, discussions and experiential sessions related to various learning technologies (like blogs and wikis), open educational resources and implications related to the social web (Digital Tattoo). Importantly, the Help Desk acts as a referral service for those who are unsure of the support available within their own departments.
Services offered through the CLC Help Desk include peer training in:
• Weblogs
• Wikis
• WebCT Vista
• Mind-mapping web tools
• Clickers
• TurnItIn
• Wimba
• Learning technology basics
• Learning design basics
Learning technology support is available (starting in September 2010) on Mondays, Wednesdays, and Thursdays from 12noon-2pm.