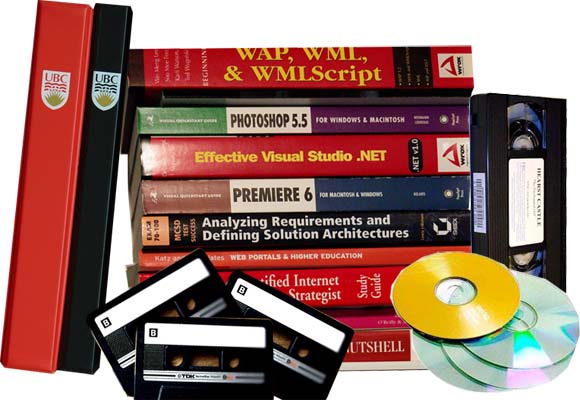 The UBC Bookstore is the place to go for your course materials. The Centre for Teaching, Learning and Technology will deliver any required media on loan to you after the course has started. Please ensure that your address on the Student Service Centre is up to date.
You can view the course material requirements and download the textbook order form for your course by checking the course outline. Updates of the material requirements are completed around 3 weeks prior to the start of the course.
In order to request your course materials, please go to the UBC Bookstore website, and follow the procedures set out by the UBC Bookstore on how to order textbooks.
Order your textbook and/or request your course manual by:
In Person
Phone
Fax
Mail
Textbooks and materials can be purchased in person. All materials are found in the bookstore in the appropriate section (you will need to know your course section).

It may be helpful to take a list of the required materials to the UBC Bookstore. Ask for any materials not on the shelves at the nearest text information desk.

Orders accepted during opening hours between 9:30-5:00 Mon-Fri and Sat. from 11:00-5:00 pm. Identify which course and section you are taking and let them know you are a DE student.

Locally
604-822-2665

Toll Free
1-800-661-3889

Fax in completed textbook order form to 604-822-2111
Mail completed form to:
UBC Bookstore
The University of British Columbia
6200 University Blvd
Vancouver, BC V6T 1Z4
Note: Learner Packages for print-based courses contain the course manual and are only available from the UBC Bookstore.
If you do not wish to purchase textbooks for your course, you will still need to purchase the course manual. Contact the UBC Bookstore.