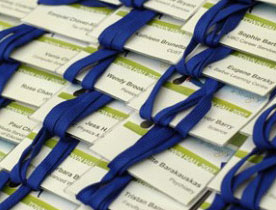 Over 400 nametags for our colleagues with an interest in IT
The first thing everyone wants to see is the Town Hall Photo Gallery, to see if they're in it, or to see what they missed! Once again UBC photographer Martin Dee did a fine job of capturing the excitement of the day.
Our theme this year was "Learning Technologies: Keeping Pace with Students", and we started the morning off, as always, with a welcome from UBC CIO and AVP-IT Ted Dodds. Actually the first thing you saw was a video clip from the Tonight Show with Jay Leno, followed by the Spencer Award and Keynote Speech.
This year's Richard A. Spencer Award for IT Innovation went to Dr. Bernie Garrett, Assistant Professor at the UBC School of Nursing. He has a long history as a leading member of their team, but he received the 2007 Spencer Award for one particular development that created an important link between remote clinical practice and the university. Dr. Garrett spearheaded the development of an innovative approach to accessing knowledge relevant to clinical practice, recording and documenting clinical activities, and engaging students in structured reflective analysis of their ongoing clinical learning: The Mobile Clinical e-Portfolio – designed for nursing and medical students – that uses wireless personal digital assistants (PDAs). The Town Hall video shows Dr. Garrett at work with the PDAs, then receiving his award and a $1,000 cheque.
Then came the Keynote Speech, moderated by Michelle Lamberson of UBC's Office of Learning Technology. She introduced her colleague Diana Oblinger, a Vice-President of Educause and renowned authority on learning technologies.
A short break, then Moderator Gary Poole of TAG kicked off the Student Panel, with participation from AMS President Jeff Friedrich, UBCO's Rama Flarsheim, and Alex Burkholder from Alumni Affairs.
After a healthy lunch, we hosted two 1-hour sessions of Interactive Seminars.
Then the wrap-up, with Poster presentations, a concurrent Wine & Cheese reception, and the awarding of our door prize to James Cheung of the UBC WebCT Project. James took home a Hitachi DVD camcorder from the UBC Bookstore and Bell Canada.
Thanks everyone for coming, especially the presenters and questioners and all of our colleagues who made a special effort to participate in Town Hall 2007!
Article courtesy of UBC e-Strategy Update