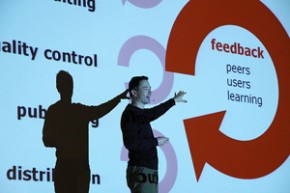 The Open Education Revolution
A stack of records and a group of college students in a punk-rock band: these are just two of the compelling and intriguing images that Richard Baraniuk used to launch his keynote lecture on the second day of the Canadian e-Learning Conference. He promised to show the audience a whole new way of thinking about content and distribution – and he delivered.
The modern music digital community, Baraniuk argued, is "vibrant, interactive, connected, innovative, up-to-date, efficient and effective." Such vitality and dynamism is possible in higher education, Baraniuk suggested, if the educational community is prepared to accept the concepts of openness and accessibility.
What are the factors that make open education possible today?
Technology is one of the key enablers of the open education movement. XML has given developers and casual computer users a common framework for sharing information without having to deal with the constraints of proprietary – and often incompatible – systems. The World Wide Web has also been crucial: virtually free and infinite in size, the web offers permanent content storage and accessibility by anyone from anywhere in the world.
These improvements in technology have lead to a revolution in how content can be used and shared. E-platforms make it possible to create, customize, share, disassemble and re-use content again and again. To illustrate this point, Baraniuk showed the audience another provocative image: a pile of Lego. Lego pieces can be assembled into fantastic individual creations that are then shared, played with and broken apart again; the components can be used to build new objects.
Technological innovation goes hand in hand with new ideas about intellectual property and content accessibility. Inspired by the open software movement, intellectual copyrights like Creative Commons make content safe to share in many different contexts. In recent years, governments have started exploring legislation to make content more accessible. The Budapest Open Access Initiative, for example, declares that scientific research must be published openly within six months of private publication. The Capetown Declaration issues a similar edict for the field of educational publishing.
Producers of content are also starting to embrace the idea that information is part of an ecosystem rather than a pipeline. The pipeline approach, which has been used for centuries by traditional publishing houses, is a linear model with a clear path through authoring, editing, quality control, publication, distribution and finally review. The process is rigidly controlled and few people have access to content information until it is formally released, usually in print form.
The ecosystem view contains the same elements as the pipeline model: authoring, editing, quality control, publication and distribution. The key difference, however, is that content feedback is provided by peers, users and learners throughout the process. "It's important to make the user part of the process, " explained Baraniuk. "The teaching/learning process becomes part of a faculty/instructor development process." Users and authors collaborate to create content.
In 1999, Baraniuk used these ideas to create Connexions, 'an environment for collaboratively developing, freely sharing, and rapidly publishing scholarly content on the Web'. Baraniuk got the idea for Connexions when he was a young professor contemplating his options for publishing his research. Recalled Baraniuk, "I developed Connexions at the beginning of my career as I prepared myself for a career as, essentially, a textbook writer. I realized the system I was going to put my material into was not just a pipeline but a broken pipeline."
In contrast to the traditional publishing industry, Connexions is a non-profit organization and built on an open platform. Textbooks can be published collaboratively and printed cheaply in custom editions. As an example, Baraniuk sited an engineering textbook he co-authored with several other experts in the field. The resulting document, Fourier Analysis of Complex Spaces, emerged as a popular resource with content that was 10-20% customizable. The book was later translated into Spanish by a group of graduate students, something that rarely happens with textbooks published in a traditional format.
One of the aspects of Connexions that Baraniuk is most proud of is the way 'non-academics' have been brought into the publishing process. He sited two highly popular Connexions textbooks that were authored by a small-town music teacher and a scientist in India, respectively. "There are more people outside the system than inside the system with really fabulous ideas to share," said Baraniuk, "The power of open education is not so much the outreach but the in-reach that allows people around the world to share their ideas."
Baraniuk ended his presentation the same way he began, by referencing music as an inspiration for the open education movement. Standing under an image of David Byrne from the Talking Heads, Baraniuk described how musicians are embracing the open source concept as a means for developing new business models. "Where people think the money is, it really isn't," he said, as he explained that the added value of open source initiatives (like the customizable features in Connexions text-books) could make new ventures economically sustainable.
"The real power of learning technology is moving from a 'see' culture to a 'do' culture." Baraniuk concluded. He issued one final challenge to the audience: "Adopt an open text, mix in your own text, contribute knowledge, educate colleagues and join the Connexions Consortium. "