People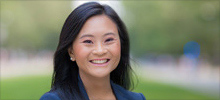 Lead Facilitator, Graduate Programs
Jen is a member of the Graduate Student Facilitator Team where she is an Instructional Skills Workshop (ISW) facilitator and a Facilitator Development Workshop (FDW) trainer. In her role as the Lead Facilitator of this team, she provides support to her colleagues, leads professional development for the team, and works behind the scenes to ensure the ISWs run smoothly. Jen is currently pursuing her PhD in Pharmaceutical Sciences.
Jonathan began his university career studying Classical History at the University of Ottawa, and then went on to graduate from Osgoode Hall Law School in Toronto. He spent some time in the legal research field before returning to academia by working for the Institute of Intergovernmental Relations at Queen's University in Kingston. Following a move to the West Coast and now calling Vancouver a permanent home, Jonathan is joining UBC having previously been working in the downtown offices of Health Canada and the First Nations Health Authority. There he gained some diverse experience in the area of Health Services, specifically managing a large addictions program servicing the 203 First Nations communities throughout BC.
Manager, Learning Evaluation and Research
Adriana manages the planning, implementation, analysis, and dissemination of evaluation and research frameworks, strategies and tools across UBC's teaching and learning initiatives, programs, and projects. She designs and oversees impact evaluation of UBC's teaching and learning programs at multiple levels. Adriana is also working to ensure that the outcomes of different evaluation and research efforts inform current and future teaching and learning projects and initiatives.
Faculty Associate / Faculty Liaison (Land and Food Systems)
Faculty Liaison (Sauder School of Business)
As a Liaison, Sunah provides overall partnership relationships between Sauder School of Business and CTLT. She provides support to a broad range of projects including Flexible Learning, TLEF, SoTL, MOOC(edX) projects. She conducts needs analyses, plans, organizes, manages, monitors, completes, and evaluates projects within allocated time and resources. She works collaboratively with all levels of faculty and staff. Sunah is an experienced educational consultant, instructional designer, and project manager who engages faculty to collaboratively design and integrate technology into instructional programs, curricula, and courses. Sunah is also an experienced instructor who teaches a variety of online and blended learning courses.
Associate Director, Curriculum and Course Services
Andrea directs the Curriculum and Course Services team who support faculty and academic units during curriculum and course development, implementation and evaluation. This work is accomplished by a highly skilled and collaborative team of professionals with expertise in curriculum development, evaluation, instructional design, project management and research. In addition to her work at the CTLT, Andrea currently serves as the Acting President of UBC's Association of Administrative and Professional Staff (AAPS).
Strategist, Open Education Initiatives
Will is engaged with projects that leverage emerging technologies and pedagogies to support open learning. As a strategist for open education initiatives, he has worked on a range of initiatives that have included helping to support open pedagogy-based assignments that emphasize students as collaborators in the production of knowledge, the effective integration of open resources into individual courses, the development of UBC's Massive Open Online Courses (MOOCs), and learning analytics hackathons for undergraduate students. With a Master's degree in library science, Will is interested in supporting the removal of barriers that limit access to education and knowledge.
Faculty Liaison / Senior Project Manager
Afsaneh is a skilled Project Manager, Instructional Designer and e-Learning Specialist. She is interested in implementing research findings into practice and works closely with faculty members to ensure that course/program design and development meet best practice standards. Afsaneh develops relationships with faculty members and support specialists across Faculties, departments and other academic/service units and supports them with the development and evaluation of teaching and learning enhancement projects. Afsaneh has been listed as one of the top 90 Canadian researchers in online, blended and distance education and is the vice-president of the Canadian Network for Innovation in Education. Particular interests for her include quality enhancement, accessibility, online learning, community of practice, open education, inclusion and diversity, and universal design for learning.