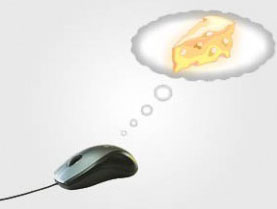 What do electric mice dream of at night? UBC Open House, of course!
If you weren't there you missed a great event. The 4th Annual e-Learning Open House was the best attended ever – we ran out of nametags and programs, but not enthusiasm!
Co-hosted by the Office of Learning Technology and UBC e-Strategy, it's really become a major 'must see' on the university's spring calendar.
The Door Prize – a Western Digital Passport Portable 120 GB External Hard Drive – went to Dave Lampron, Manager of MedIT at the UBC Faculty of Medicine.
Presenters from seven UBC Faculties explored a wide range of interesting e-Learning topics, including:
Open Source Learning Management Systems: The Sakai Edge

Illustrating how Sakai, an open-source learning management system, can be integrated into the atmosphere of advanced learning through educational technologies, and how it acts as complement to WebCT.

Virtual Communities

Showing how virtual communities can be used effectively to create meaningful and collaborative learning environments.

Electronic Theses & Dissertations (ETDs) at UBC

Showcasing the workflow and technology involved in developing an online submission for UBC theses and dissertations, and an online repository that allows free electronic access.

Using Technology to Make Large Introductory Science Classes Smaller

Outlining three different kinds of technological tools used effectively in introductory Physics courses at UBC and their effects on student academic achievement.

Media Rich Content: To and From our Students

Showcasing the use of innovative technology to make learning content appealing and media rich, but at the same time accessible to all learners.

Future Mapping: The Evolution of Mixed-mode Learning

Future Mapping is a mixed-mode career development program. Come and ask about the lessons learned and the new challenges that arose from this project.

Teaching Portfolios & Course Portfolios: What and Why?

Teaching and course portfolios are powerful tools that can be used to demonstrate sound teaching principles – and the student learning that results from them. Portfolios serve as creative forms for summarizing and developing strong teaching techniques.

ROLS: Support for New Online Learners

The Rehabilitation Online Learners Support (ROLS) website was created to reduce the need for technological assistance in the first week of courses for new, mature learners in the 100% online UBC-McMaster Graduate Certificate in Rehabilitation and Master of Rehabilitation Science programs.

Showcase of UBC Online Courses

Focusing on overall course design process (from planning to delivery), CTLT web designers/programmers will discuss the use of technology and design to deliver information to students via the web.

Faculty of Medicine: Use of Learning Technologies

This presentation explores the use of existing technologies in the Faculty of Medicine and hopeful future initiatives such as mobile learning and social software solutions in the education framework.

iPeer Software: Online Self and Peer Evaluation

Developed at UBC, this open-source application allows instructors to easily develop and deliver rubric-based peer evaluations to students online.

Team-based Learning: An Exciting Alternative to Lecturing in Large Classes

Come and experience team-based learning, a methodology that addresses many issues that we encounter when using different styles of group and team work.

LEAP: Partnerships and Possibilities

LEAP is an interactive site, developed and supported by students for students and devoted to providing a coordinated, peer-based, easy-to-access collection of resources designed to enhance academic success.

The PEPI Project: Academic Podcasting that Goes Beyond the Lecture Hall

The PEPI project aims to create a new kind of academic podcast: a podcast that is student-generated and exists outside a lecture hall.
So the UBC e-Learning Open House is over for another year! A big thank you to all the presenters and volunteers and participants.
Article courtesy of UBC's e-Strategy Update.