On September 30, 2008, the Centre for Teaching, Learning and Technology hosted a Distance Education Course Showcase, which celebrated distance education at UBC. The Course Showcase was put on as part of Celebrate Learning Week, and sought to highlight some of the challenges and rewards of teaching and learning in a digital learning environment. The informative afternoon reception, mc'd by CTLT's Chris Crowley and Donna Scalzo, featured presentations from six UBC instructors who shared their experience teaching in the online format. In addition, a video was shown at the beginning of the event, produced by Chris, and included interviews from three distance learning instructors: Dr. Maja Krzic from the Faculty of Land and Food Systems, Dr. Brian McIlroy from the Faculty of Arts, and Dr. Darlene Redenbach from the Faculty of Medicine.
Janet Wynne-Edwards began the panel discussion by talking about her use of the online discussion forum in her class, Library 526: Literature and Other Materials for Young Adults Janet has often found that in an on-campus course, it is hard to generate discussion that engages all of the students. "You ask a question and it is always the same three people who answer," notes Janet. "There is always a shy person in the back who has an idea, but doesn't want to say anything."
Teaching in the online format, however, has opened up the discussion beyond just a handful of students. All students are encouraged to participate and, as Janet explains, they "have the ability to think about [how they] are going to respond." This sort of thought process results in more meaningful and engaging discussions. The online forums also allow for more students to engage in back and forth discussions, as conversations are not limited by the length of class time, as it is in an on-campus course. "It's just marvelous," says Janet.
Roberta Birks, the instructor for English 303: Intermediate Composition, shares some of the same sentiments as Janet in regards to the online teaching format. Roberta notes that teaching online "is very different from [teaching in] the classroom, where you might have one to one relationships with students [and] you might lead discussions in the classroom." The difference is that in an on-campus course, "you don't have quite the [same amount of] responses as you do with the online discussions and journals," explains Roberta. In her online course, "all students have to contribute; it is what is required of them."
At the beginning of the term, Roberta asks her students to discuss their initial thoughts about learning online and developing an online community. "Almost invariably they start out saying the online community is just not as good as the classroom," remarks Roberta. At the end of term, the students are asked to reevaluate their initial responses. What Roberta found was that "although a lot of [the students] still seem to feel that there are advantages to the physical classroom, they have changed their ideas about the online community substantially, because they do feel that they have come out of English 303 with a sense of community." In fact, just this month, one of Roberta's students' commented on the discussion board that "I check this discussion board more than I'm checking my IM [instant messenger]."
Judy Brown continued the discussion of online interaction by speaking about how, with English 301: Technical Writing, she is able to implement assignments that would not be possible in a print-based or even face-to-face, on-campus course.
Judy believes that peer review is essential in a writing course. "If you are going to develop as a writer you need to be able to see the writing of others; you need to be able to offer constructive criticism and to receive constructive criticism from someone other than the professor." Students complete three different peer reviews in English 301 which, according to Judy, is "much more than they would be doing in a face-to-face classroom environment, where there isn't as much time to do it." Further, Judy notes that "you could not do this in the print-based version of the course. You could not ask students to exchange drafts, give feedback, do revisions, and then submit the finished product." With its online format, students are able to develop critical writing skills in English 301. Students are able to easily exchange papers, give constructive feedback, and make the necessary revisions – all within the communication spaces in WebCT Vista.
Ted Hannah, the instructor for Family Studies 316: Human Sexuality, has seen the benefits derived from students in an online course, as noted by Janet, Roberta, and Judy. At the same time, he has noticed that teaching in an online course has had a positive effect on his face-to-face teaching. Ted notes that teaching online "has really informed my classroom teaching…What I took from my online teaching [has] made me a much better classroom teacher." Ted has had a very positive experience teaching online, and notes that "if you really want to teach, I think that this is something that you have to do."
Ted also mentioned that his online course is accessible to those in other parts of the world. "We have students signed up in China, Beijing and Shanghai this year and one in Seoul." With distance education, students can take the course from anywhere in the world. Such flexibility has changed the perspective of Ted. "You start realizing that you are teaching to the world, not just to a little classroom on the campus at UBC."
Leah Macfadyen has developed and taught online courses in both the Arts (Sociology 430: Perspectives on Global Citizenship) and Sciences (Biology 200: Cell Biology I: Structural Basis). She also shares Ted's sentiments about teaching to students beyond UBC. Leah notes that Sociology 430 was "created explicitly to include students at partner universities in Australia and Hong Kong." The course was designed to "to make use of all of the reflective capacity of asynchronous discussion forums, because in that course we are very interested in developing community and promoting peer to peer exchange as part of the learning process. It's a course that explicitly tries to prod and provoke students into reflecting critically on their assumptions about the way that the world works, and their own values and cultures and circles of responsibility." In fact, if the course was not offered online, students would not be able to share their points of view with others around the world. "The technology beautifully supports what our learning goals are for that course," explains Leah.
Both Sociology 430 and Biology 200 make "heavy use of the discussion forums" to promote student to student discussions. However, Leah has noticed that the discussion boards are used quite differently between the two classes. In her Sociology course, "the students kind of leap onto [discussion questions]…they have opinions and share them. There is a lot of back and forth." Almost the exact opposite is seen in her Biology 200 course, where the students are "reticent and unwilling to really engage in online discussion."
Jim Berger worked with Leah to develop Biology 200 and picked up on the lack of participation in the class amongst Science students. He notes that "one of the big struggles has been getting student inter-activity." In fact, Jim has found that students often comment at the end of the course that they were "very surprised at how interactive this course was." One student commented that "it's actually more interactive than the face-to-face courses." Leah also noted that there "are students who write grumpily at the end of the course saying this is supposed to be a distance learning course, if I had known there was going to be all this [discussion] and requirement to participate… I would never have signed up for this [course]."
Jim asserts that "teaching online courses has opened a window into the student mind of things you would never ever see in a face-to-face course. In a face-to-face course, you see a bad answer on an exam; you see a blank look in a lecture. You have no idea what's going on behind the scenes. When you monitor the discussion forums you begin to see the wheels grind." This year, for example, Jim has spent much more time in his on-campus course working through and solving problems. He is also using five Teaching Assistants in his on-campus class to help students go through the logic of problem solving. Jim notes that "this sort of change is a consequence of having dealt with the online course…[and from] looking at the responses of students in the online course." Echoing Ted's earlier comments, Jim notes that "the online course [has] informed, in many ways, the face-to-face course and vice versa. It's really complimentary."
Afsaneh Sharif, a CTLT Instructional Designer / Project Manager, concluded the panel discussion by discussing how CTLT works closely with instructors to develop and deliver distance education courses. "CTLT provides help throughout the planning, production, development, implementation, and evaluation phases of the course development process," asserts Afsaneh. CTLT works with instructors to bring new course offerings online and to update and revise current distance education courses. Afsaneh explained that "CTLT can help obtain copyright permissions if instructors want to use articles, images, or video in their course." At CTLT, "we use a team approach for course development," says Afsaneh. This team approach includes help with the different stages of the course development process, WebCT Vista training through CTLT's professional development training sessions, and technical support throughout the course for any "web browser or technical issues" that students might experience. CTLT is here to help instructors develop and deliver distance education courses. Notes Afsaneh, "we are trying to make online courses more accessible" to students.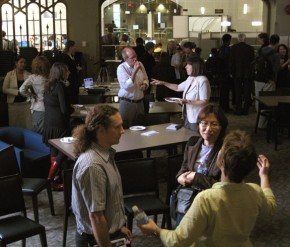 The Course Showcase concluded with a question and answer period and poster presentations. The event brought together distance education instructors and program advisors, and OLT hopes to make the Distance Education Course Showcase an annual event. Important issues were raised, such as how to encourage students to participate in the online discussion forum and how teaching an online course can have a positive effect on face-to-face teaching, and vice versa. It was also noted by the presenters that teaching in an online course requires them to constantly make revisions to improve the course. These revisions make better use of the technology and make for a better learning experience for the students.
Attendees enjoyed "hearing [about] the various approaches to courses across a wide range of disciplines" and listening to "speakers' individual experiences." Others said that they enjoyed "hearing about the pros and cons of the [distance education] approach from experienced instructors" and "learning about innovative ways people are using the online forum to teach/deliver content." OLT will be creating more opportunities for instructors to come together and share experiences, so keep your eyes on the OLT website for important updates!