Archives by date
You are browsing the site archives by date.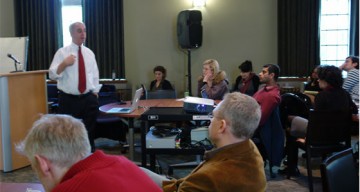 By Alicia Woodside on February 15, 2011
In a recent Teaching and Learning with Technology series session, Dr. Richard Keeling and Dr. Richard Hersh of post-secondary consulting firm Keeling & Associates delivered a unique session on the latest research in the scholarship of learning. Their presentation challenged the notions that some individuals hold of the purpose of post-secondary institutions today, and discussed emerging best practices that could re-shape universities for truly higher learning.
Posted in Faculty and Staff, Professional Development, Students
Tagged with Education, Events, Student Engagement, TLT