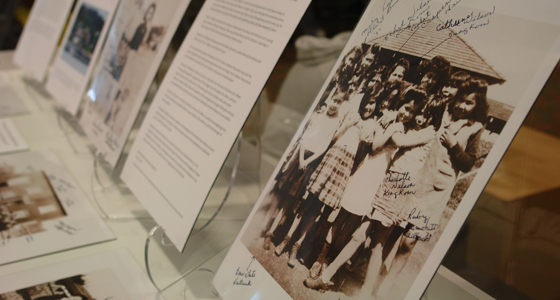 On September 18, 2013, UBC took the extraordinary step of suspending nearly all classes on its Vancouver campus. The purpose was to give students, faculty, and other members of the UBC community an opportunity to meaningfully engage and participate in the historic Truth and Reconciliation Commission of Canada (TRC) National Event. Many UBC members attended events across campus and engaged in the dialogue to better understand the Indian Residential School Systems' impact on Aboriginal communities.
Dr. Eduardo Jovel, an associate professor and course instructor of Land, Food, and Community II (LFS 350), described the TRC as an excellent opportunity for his students to build awareness of Canadian history, particularly about the Canadian government's treatment of Aboriginal peoples. He noted that many students were not aware of the existence of Residential Schools and couldn't believe such atrocities had occurred in a country like Canada.
Information about the TRC National Event and available web resources were shared with students prior to the September 18 observation day. Students were asked to discuss the significance of dedicating a day at UBC, and the role and participation of the University community at such an event. In addition, students were asked to reflect on why it was important to know about the TRC and Indian Residential Schools. Students were invited to engage in activities on campus or elsewhere in Vancouver. They were asked to reflect on any personal changes in their attitudes and perceptions, and to take note of the reactions of other participants at these events. Several students decided to attend the special events at the UBC First Nations House of Learning, and at the Pacific National Exhibition (PNE).
Student groups created prior to September 18, as part of other class activities, were asked to share their experience and reflections on the course's blog. These were shared with other students enrolled in the course to expand their collective experience. The assignment to participate in the TRC counted towards a small percentage of the students' grades. Dr. Jovel also noted that the assignment was directly related to core objectives of LFS 350 on social responsibility, global citizenship, and ethics.
Some students commented in their blogs that one day is not enough, and many took the opportunity to reflect on the implications of such policies and the current status of Aboriginal peoples. Dr. Jovel reported that the assignment contributed to changing students' perceptions and attitudes towards issues impacting Aboriginal peoples and Canadian history. Also, this observation day provided students with a first-hand experience to witness the stories of those who were victims of the Indian Residential Schools. Dr. Jovel commented on how the TRC observation day raised awareness in a tangible manner, and he was encouraged by the positive responses from his students.
Dr. Jovel added that this event should not be an isolated event, but the beginning of many. Raising awareness about issues related to Aboriginal peoples demands deconstruction of history in an effort to build healthier societies. Providing opportunities to further understand the past is a collective responsibility, and a necessity to prepare future generations for civil engagement in multicultural societies.
---
This article was published in the March 2014 CTLT Newsletter, Dialogues. Below is a list of articles included in the issue:
Truth and Reconciliation at UBC: Reconciliation and LFS 350 (currently viewing)
Find out more about the CTLT Newsletter, Dialogues.