Indigenous Initiatives Related Events

By Janey Lew on January 8, 2016
Aboriginal Initiatives Strategist, Amy Perreault, and Classroom Climate and Educational Resource Developer, Hanae Tsukada recently returned from San Fransisco, California, where they shared their work on Classroom Climate at the Professional and Organizational Development (POD) Network in Higher Education conference, November 4-8, 2015. POD is a forty-year old, globally recognized professional organization serving faculty developers in […]
Posted in Indigenous Initiatives Related Events, Uncategorized
Tagged with

By Janey Lew on December 4, 2015
Register now for Taking Classroom Climate Online, a faculty roundtable and discussion on how to address issues of identity in online and blended learning environments, considerations of place and location when using digital technologies, and articulating cyberspace in the context of Indigenous studies.
Posted in Indigenous Initiatives Related Events, Uncategorized
Tagged with

By Janey Lew on November 10, 2015
Bridging the Knowledge Gap What can we do to "bridge the knowledge gap" – whether that be remediating our own knowledge gaps to avoid the kinds of problems identified by my student, or providing our students with a firmer grounding of basic information on Indigenous topics to raise the level of conversation in our courses? […]
Posted in Indigenous Initiatives Related Events
Tagged with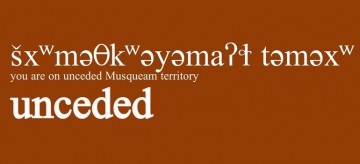 By Sarah Ling on February 10, 2015
unceded. was on display in the Irving K. Barber Learning Centre from Jan.18-Feb.25, 2015. Find out more about this exhibit and visit the online archive.
Posted in Faculty and Staff, Indigenous Initiatives Related Events, Learning Tools, Professional Development, Students
Tagged with Aboriginal Initiatives, Classroom Climate, Events, Faculty and Staff, Student Learning