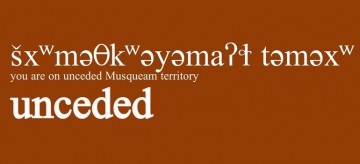 By Sarah Ling on February 10, 2015
unceded. was on display in the Irving K. Barber Learning Centre from Jan.18-Feb.25, 2015. Find out more about this exhibit and visit the online archive.
Posted in Faculty and Staff, Indigenous Initiatives Related Events, Learning Tools, Professional Development, Students
Tagged with Aboriginal Initiatives, Classroom Climate, Events, Faculty and Staff, Student Learning

By Wendy Chan on January 27, 2015
Sarah Ling, Hanae Tsukada, Amy Perreault, and Drew Ann Wake share new digital resources that highlight UBC's relationships with Indigenous peoples. Learn more about these teaching and learning tools.
Posted in Faculty and Staff, Learning Tools, Professional Development, Students
Tagged with Aboriginal Initiatives, Classroom Climate, CTLT Newsletter, Events