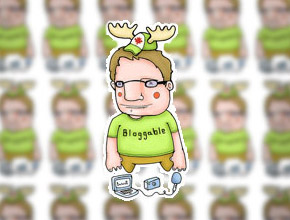 For the third year running, UBC is hosting
Northern Voice
, Canada's first weblogging conference. The previous two were quite successful, and this year's version is set for the
Forestry Sciences building
on February 23rd and 24th, promising to top them all with attendees enjoying informative and informal learning experiences in a relaxed yet dynamic environment.
For those who have yet to experience the power of The Moose, the event is probably unlike any conference you have ever attended. True to the do-it-yourself, community-oriented ethos of weblogging, Northern Voice fosters an atmosphere that allows participants to steal the show, with special emphasis on providing a worthwhile experience to as diverse a range of attendees as possible. Some of the unique features that makes the conference special:
A commitment to accessibilityToo many technology conferences cater to the digital elite, with high costs and highly specialized topics. Northern Voice, due to an impressive array of sponsors, an army of volunteers, and a frugal approach to planning, holds the line at FIFTY CANADIAN DOLLARS for two full days of sessions. This year, registration also includes an opening reception on Thursday the 22nd, with meal and beverages provided at Heritage Hall (http://www.heritagehall.bc.ca/) — planning for the feast has been performed under extreme secrecy, but reports indicate the bill of fare will be fabulous indeed.
The "main event" is held on Saturday, so non-professionals or those who can't get work release can attendChildren are more than welcome, as they have brought wonderful energy to the event in the past. The venue will have a kid's room set aside, and in previous years participants have managed to negotiate shared child-minding arrangements with each other so they can attend the sessions that are most important to them.
Something for everyoneThe schedule is intended to appeal to people with any level of expertise with weblogs, including those who have no experience whatsoever. Although it is a weblog conference, the range of topics may involve anything that webloggers are interested in… that is, just about anything. Previous years have had plenty of geekery mixed with panels on how blogging interacts with family life, education, travel, photography, community building and establishing professional profiles. Speakers range from the big names at the top of the Technorati rankings to first-time presenters with a passion to share.
The community makes it happenOne unique feature of Northern Voice results from its unique breed of attendee. Since most people at the event are avid webloggers, photographers, and podcasters, the three hundred people on hand take full advantage of UBC's kickin' wireless network, posting their opinions of the sessions, sharing the learning that goes on in the hallways, and uploading a truly astonishing amount of digital photographs. The cumulative effect of all this activity provides a clear sense of what grassroots-driven, networked-powered peer-to-peer media and learning is all about.
You can sample this flow by checking out the legendary Northern Voice Flickr feed (2,900 photos and counting).
What to watch for at Northern Voice 2007:
As with last year, the conference is divided in half. Friday is given over to Moose Camp, which functions as a self-organizing event structured and led by the attendees themselves. In the spirit of Bar Camp (http://en.wikipedia.org/wiki/BarCamp), this day strives to be an 'unconference' — fluid, flexible, and reflecting the interests of the people. Preparation for the what the day may hold is already underway on the Moose Camp wiki and it appears there will be lots of activity on digital photography, a session on educational podcasting, a discussion on digital identity and privacy, and lots of sharing on how to build online communities.
The Saturday sessions are a little more structured, the schedule can be viewed at http://2007.northernvoice.ca/schedule.
It's my privilege to convene a session on social software in education, with UBC's Jon Beasley-Murray (http://last301.notlong.com), D'Arcy Norman (http://darcynorman.net), Sylvia Currie (http://scope.lidc.sfu.ca/) and Chris Lott (http://www.chrislott.org/).
Based on our planning so far, expect a freewheeling discussion with plenty of controversial positions. Other highlights will include talks on legal rights and liabilities for bloggers, podcasting, wikis, citizen journalism, and virtual worlds.
As a co-organizer of this event, I am obviously a biased source. Nonetheless, it is my fervent hope that a sizable contingent of attendees from UBC will share and contribute to an event that promises once again to be something special. But don't just take my word for it — I'll close with a few testimonials from participants from previous years:
"Calling it a conference doesn't do it justice, it's more like a learning party." — Will Pate (http://www.willpate.com/)
"What I love most about NV is their open 'come on in and stay awhile' attitude. They have no room for arrogant tech voices here – only helpful experts who love what they do. This makes for a comfortable space to learn about technology and how it's influencing all our lives." – Ponzi Indharasophang (http://ponzarelli.com/)
"When I think about going to Northern Voice, I think about the community. I think about sharing secrets over sushi lunches and hanging out in the hallways. I think about discussions, dialogues that happen during the sessions, and quieter one-on-one conversations in corners. …My whole family loves Northern Voice. As Boris Mann wrote, this IS your mother's conference, and I'll say it is your kid's conference too." – Julie Leung (http://www.julieleung.com/)
Previous years have filled up well in advance, and all indications are that it will again — so don't delay, register today (http://2007.northernvoice.ca/register).
Article courtesy of UBC's e-Strategy Update.