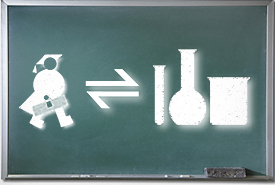 For students to appreciate the complexity of real world research they must be exposed to authentic learning experiences and able to use the same tools that modern researchers deploy. As a school that prides itself on its excellence in research, UBC is equipped with educational software that grants educators and students access to remarkable technology. The UBC Chemistry department uses the electronic structure calculation application Gaussian (which is accessed through the web interface WebMO) when doing calculations and research with molecules. Gaussian calculates complex problems involving the structure, energetics, and properties of molecules, (problems that involve real chemicals that researchers encounter) and is the most commonly used software package in the chemical research community with the ability to perform these calculations.
Mark Thachuk, a professor in the Chemistry department, has used this software in his course, Chemistry 320: Structure of Atoms and Molecules. Although the research-grade software is available, it is not always easily accessible to students. This led instructors in Chemistry 320 to rely on molecule calculations that can only be done by hand, which limits the problems students encounter.
Using software like Gaussian is important as it exposes students to a variety of computational tools and gives them unlimited potential to learn. In a networked world, forcing students to come to a physical computer facility seems outdated. Professor Thachuk gave students access to Gaussian through WebMO, but creating a new login system would be time-consuming and complicated for both instructors and students.
With the help of UBC IT's WebCT Vista Powerlink program, Professor Thachuk and Bojan Zimonja removed these barriers through The Abacus Project, providing an environment to connect students to research-grade software like never before. With the help of a generous TLEF grant to begin the development, they were able to launch the pilot project this past January.
So, what is Abacus?
Abacus is a web interface that links our new Learning Management System, WebCT Vista, and Gaussian. Renbo Huang from UBC IT developed the Abacus Powerlink, bridging the Vista application and Abacus. Powerlinks make it possible to "integrate third-party applications and create custom applications that access WebCT Vista Enterprise functionality".
To give you a better understanding of what Abacus does, let's look at what was happening before it came along. Prior to Abacus, Professor Thachuk used WebMO on its own for his Chemistry 320 class. He had to manually populate his class, creating user names and passwords for each of his students. This is a time-consuming process even for his relatively small class of 30-40 students (you can imagine what an imposing task it would be to manually digitize a first year Chemistry course of 200-300 students). As well, students had to go to the WebMO homepage to login in order to use the WebMO application separate from WebCT Vista.
The Abacus Powerlink essentially eliminates this process so that WebMO can be incorporated into WebCT Vista, simplifying the login process. Since UBC students (and instructors) access WebCT Vista with their Campus Wide Login (CWL) account, there is no need to create another user name when using WebMO with the Abacus Powerlink. Abacus collects the student information from WebCT Vista (so that the instructor can identify them on WebMO), and submits all the information to a computer cluster located in the Chemistry department. Abacus uses this information to create a WebMO account for the students, and this process runs behind the scenes so that the instructor can simply add Abacus to his or her course, and any students registered in the course will be automatically populated by Abacus into WebMO.
Powerlinks provide this seamless transition through Abacus, avoiding any prompt for authorization or additional information. For Renbo Huang, "The real power of this approach is that students only need to go to one place (Vista) and then can go to any other course related application just by clicking an icon. In this way, Vista becomes more than just a learning tool. It also becomes a central portal to other learning applications that the students need to use."

Learning by Doing
When Professor Mark Thachuk proposed the Abacus project, the goal was to improve "concept building and learning" in students by combining a research-based approach to learning with research- grade computational software. Together with the Powerlinks program, Abacus allows students to access the "full blown version" of the software. Instead of limiting the capabilities of the software, students have access to the same resources and encounter the same problems as researchers.
Professor Thachuk says when students encounter issues and are forced to think critically to find the solution, it "means they're learning something [and] when theoretical chemists are doing these calculations they run into the same problems."
Gaussian enables students to "create any molecule they wish and perform calculations for any course they are taking [and] discover the chemistry of a particular compound using both computational and bench experiments". They are able to see and move the molecules and atoms, run jobs and gain hands on experience by allowing them to experiment with real chemicals and numerous models. It lays out the information in an orderly format and reduces the more complicated output text, making it possible to understand the theories behind the results. This interaction provides enhanced visualization, and supports a research-based approach to teaching that helps students gain a deeper understanding of important concepts.
For Mark Thachuk, part of the excitement in Abacus is its impact on students. Just like WebCT Vista, instructors are able to view student activity on the site through WebMO. Professor Thachuk noticed that over the summer some students continued to use Gaussian. Whether they were using it out of curiosity or for summer jobs, this program allows students to explore the real world of chemistry without restrictions. He finds that this type of learning builds knowledge and "by the time they get to the end of the course they've jumped various hurdles and understood things. When they graduate they will be very sophisticated and knowledgeable — not only on the synthetic and theoretical side but also on the computational side" of chemistry."
The Future of Abacus
Professor Thachuk would like to incorporate Abacus into all first year undergraduate Chemistry courses because of its capacity to reach large numbers of students through WebCT Vista and its administrator friendly interface. He believes that for first year students "it would be very helpful to see structures, visualize things, and work your way up". Thachuk thinks that Abacus has the potential and practicality to grow within the Chemistry department (as well as into other Faculties and departments on campus) because "almost every course that we teach could use a serious computational part like this to it. We haven't done it because it's been too hard… with [Abacus] it should be easier [and] could expand beyond the chemistry department."
Since Powerlinks can be tailored to link any application to WebCT Vista, other educational software can be incorporated in a similar manner as WebMO. Any courses that use applications could benefit from it, and could incorporate Powerlinks into on-line courses or distance education.
The ability for the Abacus Powerlink to connect students to highly sophisticated technology through a web-interface can revolutionize learning by giving students the resources to not only find the correct answers, but to build their critical thinking and conceptual understanding so that they know how to ask the right questions. This link to technology inspires curiosity, encourages research and experimentation without boundaries and offers students unlimited potential to learn.
For more information on Abacus — or to support the project — contact Professor Mark Thachuk at thachuk@chem.ubc.ca. To learn more about Powerlinks visit the Blackboard site, or contact Renbo Huang at renbo.huang@ubc.ca