The Teaching and Learning with Technology Series, in partnership with the Faculty of Land and Food Systems, proudly presented Professor Gardner Campbell as guest speaker for the final event of the school year on March 5, 2008. Professor Campbell is currently a Professor of English at the University of Mary Washington and has worked with learning technologies since the early 1980's. His passion for melding education and technology was shared with eloquence as he guided the audience through his discussion of "Computing as Poetry".
Computing, like the world of poetry, stimulates the imagination and is something best experienced personally. Instead of using words to convey thoughts and ideas, computing employs a variety of tools such as images, graphics, sounds and videos to create an experience beyond even while it augments the imagination. In terms of education, new media learning tools for students and educators allow them to "imagine ,design and link together new learning environments". Education comprises both curriculum and understanding, and the new possibilities of computing provide innovative opportunities to re-imagine course material.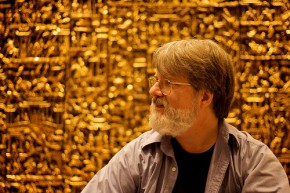 Professor Campbell used this connection quite literally in a tutorial he designed for students some years back called Hyperpoem. Hyperpoem was a virtual environment that allows students to select a poem accompanied by pictures, music, and recordings of different performers reading the poem. This gave students the opportunity to understand how "different performances portray different kinds of meaning" via an interactive interface. In addition to reading words on a page, students are given additional means to experience the poetry. The objective of such learning tools is to realize the pleasures of comparison, allowing for easy comparison available for thought and juxtaposability, increasing pleasure and self-awareness within the experience. This interactive environment encourages student participation, exploration and interest.
Professor Campbell has also created a series of class blogs, providing spaces for students to interact, share, and learn from their own efforts, as well as those of their classmates. For some, the idea of broadcasting their work is intimidating. To ease these worries Professor Campbell "[tries] to describe the wonder of [his] own experience as a blogger [because] when other people interact with our work we see the extent of our imagination". He believes it is "important for students to find a place where there artistry can be communicated [because] as we see each other do this more, we become more inclined to."
Professor Campbell challenges the way we think about education, and offers innovative alternatives to traditional practice. He quotes computer scientist Alan Kay when saying, "Computer is simply an instrument whose music is ideas". Professor Campbell leads by example through his exploration and advances in learning technology, and encourages us to open our minds to realize the potential of Computing as Poetry.