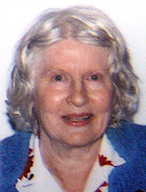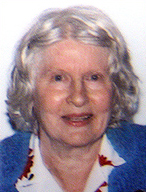 One of the main objectives of Distance Education is to promote life long learning; the idea that even when we graduate and move into the world, learning should be something we continually pursue. Distance education student Margaret Gall embodies lifelong learning to the fullest. At 87 years old, she is currently taking French Literature online through the Distance Education at UBC.
Growing up, Margaret attended a Business College in Saskatchewan. During the war, young women began filling men's positions in the workplace so she left college and began running an office. Subsequently, Margaret did not graduate from the business program, but she "has always been glad of that training because it's helped [her] a great deal through the years".
Margaret gained valuable experience in the job position, and eventually married and moved to Vancouver to start her family. She continued to express her interest in taking courses and one day her daughter asked her "Why don't you go? You're always talking about it!"
Once she began taking courses she didn't stop; she now has 39 credits and counting. Although most of her previous education was business-related she "took a great variety of courses in the Arts – "anything that was interesting to [her]" — including English Writing, British and Canadian Literature, and The History of the Canadian West. Margaret started with on-campus courses and thoroughly enjoyed the experience. She recalls, "In classes young people are very encouraging and very nice to be with. They seem to appreciate having a senior in class with them". She also took distance education courses by correspondence, in which assignments are mailed in to the professor. Her current course, French Literature in Translation 349 is the first fully online distance education course she has taken, and even with her computer experience and introduction to WebCT Vista, Margaret hasn't had any problems navigating the program.
She feels that computer technology will continue to play a growing role of learning in the future, as her experience with computers has positively impacted her own life and education. Online courses save her the trip to campus and are convenient for her lifestyle. She has experience with computers through community centre courses but Margaret believes one is "never finished learning about computers… [There is] so much information you can find with a computer". Her family is very encouraging and supportive of her pursuit of higher education. However she recalls, "When I said to a friend I was going to take a course at the University she said 'Are you crazy?' But I wouldn't be surprised if she was doing the same", as options such as distance education have made courses more accessible for those who don't want to make the trip to campus, or need more flexibility.
Throughout her life she has taken a proactive approach in pursuing education, and although at the moment Margaret continues to take courses for pleasure, she has thought of pursuing a degree. Her motivation and passion for education is inspirational and she reminds us that when it comes to learning and education, "it is never finished".