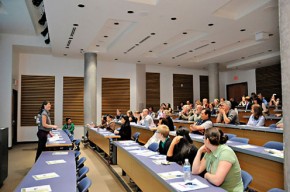 At Town Hall in June, four staff members from the Centre for Teaching, Learning and Technology got together to talk about using new technologies in the classroom. In a presentation entitled "Emerging Technologies that Enhance Learning and Teaching", four tools were highlighted:
Flickr
Ustream
Twitter
and NING
All four have very different functions, and can be incorporated into education in different ways.
First up was Flickr, which is already quite well-known among both professional photographers and amateurs. Flickr is a website that lets you easily upload, share, and organize photographs. If viewing or taking photos is part of an assignment, they can be "tagged" on Flickr with the unique name of a project, so that sharing them becomes easy, as is discussing them in the "comments" field. Using the "notes" tool can also help draw attention to specific parts of a photograph, so that a part of it can be emphasized with relevance to the project. Flickr also has many groups ("pools"), so multiple photos relating to the same subject matter can be viewed.
The next technology introduced was Ustream, which allows for easy broadcasting of video. You can create your own lecture, make a webcast based on a project, or record any other type of video. If an instructor wants to broadcast a class or ask students to make a virtual presentation, Ustream is easy to share and use – unlike sites such as YouTube, it does not require uploading the video first, which means that your own software is not needed to make it – a webcam or camera with video capability is enough. What you record can be saved and stored in your account after streaming, and it is easy to then export the file to a website or to your content management system.
Twitter is a system that makes updating your activities concise and easy through a variety of media – including the web, text messaging, or Instant Messages. Twitter involves posting updates ("tweets") of 140 characters or less, which can be tagged with a particular subject or addressed to anyone who has a Twitter account. When using them in an educational setting, data collections or observations can be shared instantly among a group of students or with a class. In an academic setting, Twitter is being used to foster interaction about a given topic while encouraging users to be concise. Gathering and sharing observations about a biology project, for example, becomes easier because updates are received instantly and stored for future reference.
The final learning technology presented was NING, a social networking tool that helps create and manage communities of practice. These are virtual learning networks that put the emphasis on the groups you belong to rather than your personal profile, which contrasts with applications such as MySpace and Facebook. Even though NING has an academic focus in the same way that most course management systems do, it allows personalization through customizable templates and support of several different languages. It also incorporates features such as blogs, forums, calendars and media so learners can use a variety of media to interact with others, share knowledge, and foster creativity. Importantly, all NING content can be accessed even after the class is over, which encourages continuous and open learning.
Although not all of these technologies will work for a given assignment, they provide valuable additions to traditional modes of teaching. Educators can enhance projects by selecting the type of tool that works best to stimulate learning and keep students interested. The future of learning lies in the teacher using technology to engage the student; the four resources presented above provide a launching pad for this journey.
---
"Why can't the way we learn correspond with the way we live?"
"Why can't we use the technologies that we already use outside of school?"
These are some of the questions addressed in the Virtual Panel Discussion that took place at Town Hall this year. The panelists were Peter Arthur of UBC Okanagan, Michelle Lamberson of UBC CTLT, Julie Evans of Project Tomorrow, and David Wiley of Utah State University.
Each discussed the pros and cons of introducing technology into the classroom, as well as the barriers that are holding us back from implementing this change.
Julie calls it the "digital disconnection"—a technological disconnection between students and teachers. Furthermore, students "power down" when they go to school; instead of utilizing their technological skills, they are discouraged from bringing them into the classroom.
What she suggests instead is the application of the concept called "free agent learning". Students should not be taught in a domineering, authoritative style—they should be able to drive their own learning without the need of the institution. The term "experiential learning" involves a more hands-on approach; the learning process is more direct and personal for the individual. This gives students more control over the style of learning that takes place in the classroom.
Julie emphasized that teachers should not feel threatened by technology. The role of the teacher in a world that is continually developing is to be a coach and a facilitator, not a content expert. A more interactive, cooperative learning process should take place—this cultivates the skills imperative to building a strong team, such as accountability and collaboration.
To probe further into the necessity of introducing technology into the classroom, Peter Arthur suggested that one needs to ask: Where is the added value? What is more important than simply incorporating technology into education is contemplating whether it enhances a student's learning environment. Peter touched on a very crucial point—the issue goes beyond the presence or absence of technology, what's important is the intention behind the decision. Technology should not be introduced merely to identify with students; at the same time, it should not be banned solely for the reason of control over the classroom environment.
During my many years as a student, technology use is usually kept to a minimal level. The only contact I had with technology is during computer courses. I have to admit that during my more rebellious years, my friends and I have used technology to communicate during class-time (about things outside of school). It can be a distraction when used improperly. Yet, at the present moment, technology is expanding at an exponential level. For instance, The Centre for Teaching, Learning and Technology has introduced "clickers" into the classroom. These handheld devices improve classroom interaction (between the students as well as teachers); furthermore, it reduces the instructor's time by electronically feeding the information into his or her laptop. (On a side note, technology supports sustainability by greatly minimizing the paper-format used campus-wide).
Another problem that David Wiley pointed out is the continual sliding gap between faculty and students. Students are always going to be ahead of their faculty technologically. Faculty can never catch up to the rate that students grow in their knowledge of technology. So does teaching or facilitating in a more familiar language to students help them better understand the material?
David gave an analogy of going into the classroom to teach being much like going to a foreign country to teach. For example, if a teacher were to go to Turkey to teach Turkish students, one would want to learn their language and their cultural background in order to relate to the students. But instructors often relate to students with the assumption that we speak the same language. Instead, teachers should respect and treat students the way they would if they were in a foreign country teaching.
Through her experience of teaching online distance courses, Michelle Lamberson noted that faculties and students already have pre-conceived expectations going into a course. One of the challenges is the idea of dialogue in the classroom—and what is the appropriate amount of dialogue to have in the classroom?
David Wiley categorized the two kinds of intelligence: in school learning (memory and processing—includes thinking, drawing things out, providing meaning), and learning outside of school (students and their technological gadgets—includes cell phones and computers). How do we merge these two types of intelligence?
Professor Wiley ended the discussion with a witty example. He compared the movement towards change to initiating religious reform. We need a group or institution that is willing to be thrown out of the "church". The Protestants made reform happen by initiating this new idea. An overbearing, ambient sense of control stifles the opportunity to try new things. This example, he pointed out, can be applied to universities and the absence of such advocates for reform. Who are the Martin Luthers of our technological age?
Article published in the September 2008 issue of e-Strategy Update.