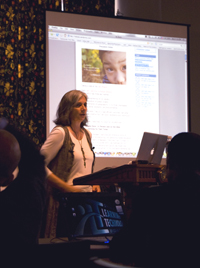 The first Teaching and Learning with Technology session of the 2008-09 year, "Both Sides Now: In Person and on the Web; Slow Learning Communities for Fast Times," started out with a bang, with a talk from Barbara Ganley. On October 1, we had gathered to what we thought would be a lecture, but Barbara had managed to pull the rug from under us, and made us question our own perceptions of what a lecture or classroom setting would look like. Interestingly, Barbara does not consider this a lecture at all; she sees it more as a "discussion" between the speaker and the attendees, which encourages the flow of creativity and ideas.
The set up of the lecture gives us an idea of Barbara's attempt towards a more close-knit, interactive classroom. She never ceases to challenge her students, daring them to question their own perceptions of the teacher's role and their own role in the classroom. At the start of every term, Barbara encounters over-eager students who try so hard to cater to what it is they think she wants. She wants the students to take active responsibility for their own learning, and to grapple with the materials of the course. "Change happens when you are poised at the brink of chaos," asserts Ganley. She comments on the constant ebb and flow of the learning process, where the only constant thing is change. The learning process cycle oscillates between disruption and repair. The question is: what do you learn through the disruption? And what do you do with this newfound insight? The three hour anti-lecture certainly did create an explosion of ideas, disruption and a lot of learning!
But, first a little background on Barbara and her approach to learning. Barbara has vast experience in the academic world — she majored in Art History, completed a Masters in literature, and was the director of "The Project for Integrated Expression," and co-founder of "The New England Young Writers' Conference" — and proactively launches projects to build community awareness and connection. As an instructor at Middlebury College she explored how to integrate learning across formal and informal contexts through social media within writing classrooms.
Upon further observation in her "talk", and a more personal interview with Barbara, a quote by Mother Theresa comes to mind:
"I was once asked why I don't participate in anti-war demonstrations. I said that I will never do that, but as soon as you have a pro-peace rally, I'll be there" (Mother Theresa).
In such a brief phrase, Mother Theresa captures the essence of what peace is about. When faced with values and beliefs that oppose our own, it is easy to instantly resist them; however, instead of resisting them, Mother Theresa advocates for changes to be made in a positive and encouraging manner. To fight against our opposition puts us in the same category as the opposers themselves. In the same light, Barbara understands that to create change, she has to work with, not against, the confines of the system.
Barbara has learned to construct a classroom within the "shades of grey", and has ultimately created a masterpiece. Throughout the process, she has incorporated an important tool — called technology — to achieve collaboration and community within the classroom. She uses blogging to combat the disconnection that physical distance can produce. Technology can potentially create more detachment, but if used in a positive manner, it can actually be a very effective tool.
Barbara's use of blogging removes the anonymity of each individual, and communication spans across ethnicity, geographical distance, race, and age barriers. Blogging acts as a bridge between what is within the classroom with what is outside of it. Barbara aims to create fluidity in all aspects of a person's life, and sees learning as something beyond the school syllabus and the classroom.
In her opinion, the classroom lacks "real life", it has become a means to achieve the final product — a degree or certificate. We have removed the humanity out of the classroom. She poses a very insightful question: "Do we want [the students of today] to be serving us with that mentality?" For Barbara, less is more — in other words, we start by going back to the basics by engaging within our communities. We bridge the academic world with the "real" world. It is only when we start sharing that we have truly learned something. For example, Barbara suggests that instead of staying within the confines of the university, we can bring the students into the community. It benefits the students as they grow through the process of playing both the role of teacher and learner. Barbara calls this third place learning, which is the merging of the university with the community into one. Some examples of third place learning around our UBC campus include co-op programs, the UBC Learning Exchange's Community Service Learning Initiative, and student peer programs.
In an interview, Barbara compares this difficult role — of balancing her desire to initiate a change while also being respectful of institutional regulations — to poetic forms. Of all the poetic forms, the sonnet would be one of the stricter forms to work within — it consists of fourteen lines, and has a particular rhyme scheme. Barbara draws on the sonnet as an example of weaving the confining structure of a strict poetic form with a free-flowing, creative message. Therefore, with the sonnet, one can create expression and achieve freedom from confinement. And that is what Barbara has actively and passionately pursued throughout her life. She feels the urgency to create a change; and she acknowledges the reality in the length of time it would take to even start propelling such a change. Her place is outside the system, with strong hopes that present and future generations would accept the responsibility of carrying the torch; in doing so, they will hopefully initiate change from within the institution.
For more information on Barbara Ganley, please visit her blog at http://bgblogging.wordpress.com.