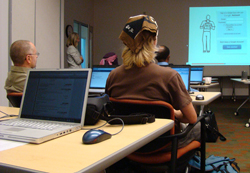 If you've ever watched Stephen Spielberg's "Artificial Intelligence," you will get an idea of what a world of robots might look like. The protagonist, a surprisingly sensitive robot named David, is attempting to reach out to his mom (who is human). The movie raises questions of technology, and the difference between artificial and human intelligence. Now if we use this storyline as an example for the emerging technologies that are available for humans to adapt, shape, or manipulate for various tasks, we can see that a bridge between technology (or robots in Spielberg's case) and humans can be achieved.
For some, technology can have repurposed applications for teaching and learning. Technology can be adapted for use in the classroom—enhancing the course syllabus or assisting in communication between students and teachers. Others see technology developing according to the trends of demographics, such as ones targeted towards teens, and others targeted towards seniors.
In an informative Learning Technology Institute (LTI) workshop, Emerging Technologies: Learn, Connect, Share, the Office of Learning Technology's Emily Renoe and Joe Zerdin introduced a suite of technologies that can support learning and teaching activities. Specifically, they focused on Google Docs, Bubbl.us and RSS to demonstrate how each can support collaboration in the classroom via group work. Below is a brief description of each of the technologies that were demonstrated:
Google Docs
Google has come out with ways to make our hectic lives easier—from Gmail to calendars to maps, and now "Google Docs." Remember a time when you had a group project to work on, and not all group members were able to attend the meetings due to time conflicts? Well, Google Docs provides a platform that shares the document with all group members in "real time." What does real time mean? It is the equivalent of going live on a talk show where audiences see the taping as it happens. Multiple people view the same document, and the changes they make on the document are automatically added for all parties involved to see. Google Docs helps to eliminate overloading your email with email attachments, because instead of attaching email addresses to a document, you are attaching documents to email addresses. With Google Docs, you don't have to worry about transferring the latest file or about software compatibility. Google keeps a record of the different versions of a file and stores all of the content centrally, making collaboration and document management very easy. Besides text documents, you can also upload or create other files such as spreadsheets and slideshows.
Bubbl.us
Another website that can be helpful to group assignments is Bubbl.us. This free web application allows you to brainstorm and create mind maps online. With each click of the "bubble," a new mind map is made. Each new "bubble" can be expanded or customized to your liking. You can choose to create your own mind map from a wide range of colours, and it can be saved in various sites, using embedded code in blogs or websites. And, since this all happens online, you can easily share your mind maps and collaborate with others in a simple, succinct manner.
Really Simple Syndication (RSS)
Some tools allow you to reuse content from one page to another. For example, RSS allows you to use a single newsreader, such as Google Reader, for all the blog and news updates that you want to read. All you need to do is create an account with a newsreader, for example, with the Google Reader. This allows you to set up connections with some of your favorite websites. Instead of checking for new blog and news updates yourself, you allow your favorite websites to come to you, via a newsreader. Therefore, RSS feeds buy you time, since it allows you to automatically import updated information from other websites right onto your own webpage or desktop (via a newsreader) without having to visit these sites individually. Subscriptions to RSS feeds brought into a newsreader bring all of that information together into one tidy package! And that, my friends, is the pleasure of technology…
http://commoncraft.com/rss_plain_english
For further information on these nifty technologies, you can visit the commoncraft show, which is built by a husband and wife team to simplify complex ideas. Using whiteboard and paper cut-outs, they offer videos for people in "plain English:"
For a listing of upcoming Learning Technology Institute workshops, please visit www.elearning.ubc.ca