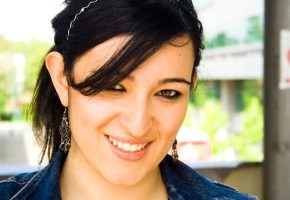 Cristel Moubarak thought keeping up with her education wouldn't be possible due to her demanding schedule. Working four jobs and volunteering for various community groups does not leave much time for attending on-campus courses. By opting for distance courses, she has found a balance that allows her to continue her jobs and volunteering, as well as work towards her degree in a timely manner.
Cristel is a 3rd year SFU student, registered as a visiting student at UBC, and is finishing her pre-requisites for a major in Dietetics in the Faculty of Land and Food Systems. She is currently taking one of the program's prerequisites, FNH 200: Exploring Our Food, by distance education. In this course students are introduced to key concepts related to the science of food, including: the Canadian food system, chemical and physical properties of foods, government regulations, food preservation techniques, and the transformation of agricultural commodities into food products.  This course provides a critical framework for students, encouraging them to make informed decisions about controversial issues involving food that they may face in the marketplace and the media. Increasingly, controversies of the health benefits of certain foods, media promoted research studies, and the current health focus in North America are presented to consumers, and this course provides the necessary guidance to be conscious consumers.
FNH 200 offers multiple avenues for learning, requiring students to complete a number of different activities to reflect their understanding of the course content. Cristel has been completing, "continuous group discussions [3 selected discussion topics are mandatory], assignments, 4 quizzes, and a final exam. The assignments are a mixture of 2 or 3 essay questions and 10 fill in the blank questions – each assignment is out of 30." This variety in work gives alternative routes for displaying the student's knowledge as well as learning.
Cristel has found her FNH 200 course to be interactive and structured in such a way to enhance the learning environment. She finds there is "personalized interaction between the students and the instructor." Similarly, her experience with the group discussions has been "very helpful because you get to know your classmates on a more personal level – as well as learn from their diverse perspectives." The ease of interacting with other students and her professor has given Cristel a more engaged and dynamic learning experience.
When comparing online with on-campus courses Cristel notices a difference. The "obvious difference for anyone taking distance education is not having to attend class while having the course materials and lessons designed in an organized and simple way for the student to take advantage of it and really focus on the material provided." She feels the benefit of distance courses is learning at your own pace while aligning with set deadlines for assignments and quizzes. She explains, "some classes I`ve taken on campus weren`t as helpful to attend or [we] just stud[ied] from the book; versus the distance education courses, it is never unhelpful." While some students prefer the face to face learning or need a set time to attend an on-campus course, distance education has proven to be more suitable for someone in Cristel's position, with many demands and a need for a flexible learning environment.
In addition to the ability to learn at her own pace, Cristel has achieved something more through distance learning. "Without the distance [education] courses I`ve taken, I wouldn`t be able to finish my pre-requisites for the Dietetics program. Usually, with a schedule like mine, it would be impossible to attend and keep up with classes on campus." Since Dietetics is a five year program, it is important for Cristel to stay on track with her studies. Through distance learning courses she has been able to complete her pre-requisites in a timely manner, enabling her to spend less time than expected completing her undergraduate degree and more time meeting her job and volunteer commitments. Cristel praises distance education for, "making [her] education more accessible; from anywhere and at anytime." Hear, hear!