Sustainability Education was the theme of EDUCamp 2010 and we were very pleased to have Duane Elverum start things off with an incredible keynote presentation. Duane is a sustainability educator in applied critical thinking at the Emily Carr University of Art and Design. He has long had a passion for effective teaching methods and he continually challenges traditional learning environments.
Duane began by posing a question to the audience, "Are universities succeeding in their basic societal mission?" His presentation touched on the core challenges of universities as they attempt to educate the leaders and workers of the next generation, and, by the end of his speech, he had instilled a sense of responsibility in the audience.
Duane gave thought-provoking insight into the role of educators and identified three key goals for post-secondary institutions. Universities should be acting as change agents, regional experts, and most importantly "places for radical learning experiments including experimenting with what universities are". He went on to show a survey of the top polluters per capita of the OCED countries, and the survey showed that Canada is one of the worst offenders. This was an interesting discovery, as Canada also happens to be the most educated country in the group; over 50% of the population have university degrees. Is our university system really contributing to our attitudes toward environmental sustainability and responsibility? With 40% of Canadian research and development funding going to universities, it is quite apparent that the institutions of higher learning have been slow to innovate in the areas relating to sustainability. Even though universities, such as UBC, have taken huge steps to become more sustainable, the leaders that are coming out of the education system have been slow to implement sustainable procedures when they are out in the workforce. It seems that universities have been unable to sustain their original purpose with the rapid changes in society and have been slow to adapt to the cultural norms of the rising millennial generation.
Duane is adamant that over the last 100 years, academia's goals have shifted to become "more useful for corporations than societies" and that the priorities of Canadian post-secondary institutions are evidence of that. The university graduate of today is groomed to be useful in the private sector, not necessarily to act as a good social citizen. However, Duane does point out that universities are not entirely to blame: he believes that the entire school system is flawed from K-12. He points to David Orr, an outspoken American environmentalist, who thinks that most people are lured into supporting the current education system because everyone thinks education is important. But education, as David puts it, "never guarantees morality".
Duane does find hope in the millennial generation who, unlike Generation X and the Baby Boomers, demand a different kind of discipline. He describes them as the "first generation to be raised in a car seat". This is the first generation that is willing to embrace change and to take risks. All the millennial craves is something Duane calls "listening leadership", an instructional style that attempts to channel students' inward focus into meaningful action. This means creating a learning environment that fosters pragmatic ideas. Millennials approach the world with two basic questions: "How can I help?" and "How can I make a living without destroying the World?" Simply reading a textbook and regurgitating knowledge does not seem to be the best learning environment for millennials. It's the one-way transfer of knowledge and the current university system makes it difficult to facilitate a bilateral approach.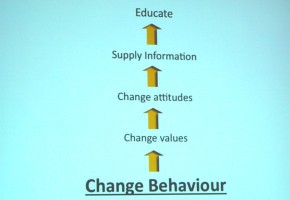 Duane then asked the audience, "How do you change the status quo?" According to Duane, the status quo begins with the notion that to educate, schools supply information which changes attitudes and values, resulting in modified behaviour. This model does not work, and he suggests reversing the process where changing behaviour will ultimately lead to better education. The example he gives is that of the military where the emphasis is placed on moulding the behaviour of soldiers so that they will be prepared to work efficiently. Duane is confident that the same can be done with higher education.
Duane is not all talk – he practices what he preaches, and teaches a unique course he designed at Simon Fraser University. The course is called Undergraduate Semester in Dialogue, and the objective is to "engage students with the most pressing issues" to help them "learn public thinking". Students with diverse backgrounds are drawn from all Faculties, and Duane has the students solve a social problem that is seemingly "impossible to solve". Students are able to consult with community experts and leaders when researching their topics, and use this information to help them form decisions and opinions. At the end of the term, students must take action, and go out and inform the public about their findings. Some students write editorials to community newspapers, while others hold public information sessions on their topics. By posing real world situations and challenges to students, Duane hopes they can "close the gap" between theory and practice.
Duane ended his keynote by posing an open question to the audience, "If [universities] have a special responsibility to society, what should that be?" Duane never failed to captivate the audience in his presentation, and it was a great question to begin EDUCamp – and one that will stay in the minds of some attendees for many months down the road.