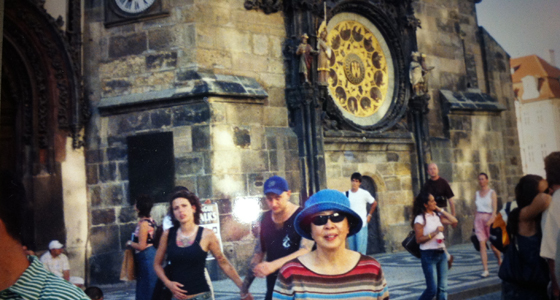 Sophie Lee retired a few years back, and takes courses at UBC to keep her mentally active. Sophie stumbled upon HIST 102 – World History from 1500 to the 20th Century by signing up on the Student Service Centre (SSC) for what she believed would be a conventional, on- campus history course. Sophie specifically decided to take HIST 102 because she found that "she was very interested in history as a subject." She soon figured out that it wasn't an on- campus course; she emailed the professor asking why there were no lectures to attend.
At first Sophie found the online learning environment to be a bit of a "struggle," due to the new format and technologies she had to get accustomed to. Sophie also found the online format a little bit overwhelming, because whatever she wrote "everyone could see it!" However, she soon picked up the tricks and techniques needed to succeed in the online environment and found that, with the help of the professor, her overall experience was very positive. It was so positive, in fact, that she signed up for another distance education course, ENGL 303 – Intermediate Composition. She has found that distance education has actually worked very well for her. Personally, she considers the structures of distance education courses, "an excellent method for learning." In fact, she has found that she has "learnt a lot from other students." Through the online discussion boards, and the feedback and comments from other students, what at first seemed like an "overwhelming experience," soon become an excellent learning environment where a communal learning practice took place.
Another benefit that Sophie encountered with the distance education format was that she was able to travel while taking the distance education course, and that the course she took, HIST 102, gave her the "historical context" that she wanted for her Eastern European tour. She traveled through Poland, Austria, Czechoslovakia, and Hungry, all countries which she had covered in HIST 102. Sophie felt that she wasn't only a tourist; she was an observer, who understood the present through having thoroughly understood the past. The knowledge that Sophie gained through HIST 102 was so extensive, and relevant to her trip, that Sophie knew all the answers that were asked by the tour guide! Sophie was glad that her extensive knowledge of the past allowed her to "fully understand the present," and it made her trip all the more interesting and worthwhile.
Sophie recommends distance education courses to anyone who is self-motivated, and who knows they might want to travel, but would like to be studying simultaneously. Due to her positive experience with distance education, Sophie would consider taking another course via distance, and she always recommends distance education courses to "her soon to be retired friends."