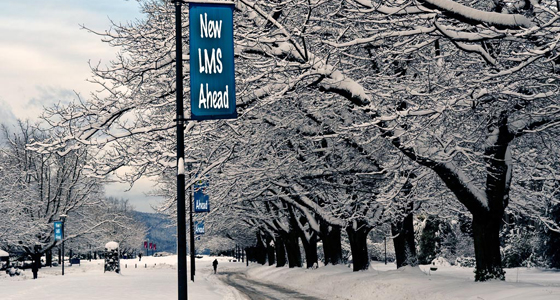 The University of British Columbia will transition from WebCT Vista to a new Learning Management System (LMS) in 2012. Students use WebCT Vista in concert with their campus-based and distance courses for a wide range of course activities: discussing course topics with their colleagues and their instructor, accessing notes and other course resources, submitting assignments and taking online tests. The new system has the same features as WebCT Vista – and many more! The new LMS will be UBC's integrated, collaborative online learning space into the future.
We'd like to brand the new LMS with a name that represents UBC. And that's where you come in! Because the LMS will be such an integral part of the University teaching and learning experience, we want YOU to help us name the new system.
How Do I Enter?
Just visit the LMS website and type in your suggestion. Your entry should be in the form of a name that somehow conveys the notion of learning ecosystem, learning community and/or links to content "beyond the classroom". Be creative and provocative!
DEADLINE FOR SUBMISSION IS FEBRUARY 10, 2012.
You'll be notified if your selection is one of the top three. The winning entry will be announced at the end of February. The person who submits the winning entry will receive a $50.00 gift certificate for the UBC Bookstore.