At the 2012 CTLT Institute, the session Going Public: Into the Great Wide Open, addressed questions surrounding the value of online openness. Brian Lamb, Strategist, Teaching and Learning, at the Centre for Teaching, Learning and Technology, began the session with a few questions. He asked the workshop attendees "what is open education, what are the shared characteristics of online openness, and what are the differences?" A four person panel, through their diverse experiences with open education, addressed these questions and left the audience with the impression that "openness is not just one thing."
Wikipedia and the Environmental History of North America
The first presenter was Dr. Tina Loo. Dr. Loo is a Professor in the History Department. After attending a CTLT session in October 2011, Wikipedia and Higher Education – The Infinite Possibilities, Dr. Loo decided to use Wikipedia for her course, HIST 396: Environmental History of North America. Dr. Loo noticed that each semester, students would write papers that they would not collect back. The hours of work that students had put into writing their papers, were not put into good use after the semester ended.
Dr. Loo stated that "there [are] huge pedagogical benefits to be gained from using Wikipedia," and that the benefits come from "the openness of Wikipedia." Using Wikipedia for her course assignments meant that students began to improve the quality of their final products. What the students were writing was public, so anyone could comment on their post, or could change what they had written. Furthermore, Dr. Loo stated that many important people were actually reading the Wikipedia articles posted by her students. In reference to the Columbia River Treaty article, an article written by Dr. Loo's students that got more than 9,000 page views, Dr. Loo received an email from the Ministry of Energy and Mines. The email stated that the government would like to offer their perspective. Dr. Loo stated that it was great to see how "Wikipedia engages multiple audiences," and that the articles that her students had written, were being more widely read than the essays that they had previously written.
Working with Wikipedia, was essentially "an experiment with openness," stated Dr. Loo. Dr. Loo felt that thanks to Wikipedia, she "had outsourced her teaching; it was the community of engaged Wikipedians that were really doing a lot of peer review work and teaching my students how to engage in [Wikipedia's style of] writing." Although Dr. Loo generally found that she got a lot of good feedback and support from external editors on Wikipedia, there were one or two people that were not as supportive. Dr. Loo had to act as a mediator, and help her students approach the infrequent negative comments that people posted. She stated that a great way to prevent negative comments is to use the "in progress, student banner" that Wikipedia provides, or to just avoid assigning potentially contentious subjects. For example, Dr. Loo advised her students to avoid the issue of climate change all together. Overall however, Dr. Loo felt that using Wikipedia was a great learning experience for her students.
The Asia Pacific Memo
Dr. Julian Dierkes is an Associate Professor and the Keidanren Chair in Japanese Research at the Institute of Asian Research. Dr. Dierkes supports the Asia Pacific Memo, a blog which, "truly supports openness," as stated by Dr. Dierkes. The journal is on an online platform, and it is designed for authors and researchers to post their findings in a language and style that is accessible to the public. Dr. Dierkes and his team found that a lot of the great research related to the study of Asia was not being read by the wider public. The idea for creating the Asia Pacific Memo was that the wider public should have access to the great knowledge that was being created.
The authors publish their research findings in less than 350 words. The articles explore the study of Asia through the lens of Political Science, Sociology, History, and Anthropology. The project is independent, it is not branded by UBC, and it accepts submissions by local authors and from researchers from other institutions around the world. Dr. Dierkes notes that the blog is certainly not meant to replace peer-reviewed articles. Instead, it is a way to disseminate the research that the public often does not have access to. Furthermore, the writing style of the articles is not meant to be highly abstract, so that the public might be more inclined to read about a field that they do not know about.
Dr. Dierkes stated that the success of the blog and its popularity is difficult to quantify. It is the idea behind this project that is what is really important. Information that would not have been accessible to the public is now freely available. Dr. Dierkes stated "there is no entrance fee, and the information posted on this website is accessible to everyone that wishes to read it."
Science Literacy and a Lesson From the Starling and Pikachu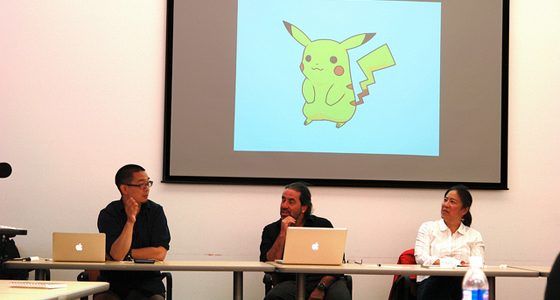 Dr. David Ng is the Director of the Advanced Molecular Biology Laboratory at the Michael Smith Laboratories. He is also a course instructor for ASIC 200: Global Issues in the Arts and Sciences. Dr. Ng is very concerned with the present state of science literacy in society today. He asked the audience, does everyone know what this is, "DU = DQ-DW?" It is the first law of thermo dynamics, and "it is like the Shakespeare of science," but not many people know or remember this law. Dr. Ng is interested in spreading science literacy and knowledge of the scientific method.
Dr. Ng was surprised to learn that many of the eight year old students he works with were able to identify Pikachu, a Pokemon character, but not a bird native to Vancouver and to many parts of the world, the starling. About 2-3% of Dr. Ng's students recognized the starling, but almost all of them recognized Pikachu. However, these results are not surprising. A similar study was done in England. Young students were asked to identify the characteristics of a robin. Many could only identify one or two characteristics, but they could identify many of the characteristics and "powers" of the Pokemon characters.
One of the things that make Pokemon characters so popular is the trading card game. Dr. Ng and his colleagues decided to create open source trading cards that would include the pictures and characteristics of different animals. Basically, they created "biodiversity cards," and made them open to anyone on the web in the hopes that they could help spread biodiversity literacy. Dr. Ng and his collogues were not interested in profiting from the cards, instead, they were interested in promoting biodiversity and the literacy surrounding it, so they decided to make the cards accessible to the public.
In order to provide a space where the public can make and download pre-existing card models, Dr. Ng and his team created the website, http://phylogame.org. Phylo is an open access website, and is designed on a WordPress platform. The website allows viewers to create their own animal cards, and to print them in high quality. Dr. Ng and his team also decided to create print cards that are now being sold at the UBC Bookstore. These decks of cards contain rare cards, and all the profits made by the cards are donated. The website has grown in popularity, and Dr. Ng hopes that through the openness of their website, science literacy will be spread. Perhaps one day we will all be able to recognize and name the main characteristic of the starling.
Amazing Stories of Openness
The last presenter was Alan Levine, an Instructional Technology Specialist at the University of Mary Washington. He created a website that aims to capture all of the "amazing stories of openness on the web." Levine is exhilarated with the possibility of serendipity on the web. It is only possible, he believes, if one is willing to be open. An example of this serendipity was when his picture ended up on the CD cover of a German rock band. Another story, which Levine told, involved a time when he posted a picture of an orange flower on Flickr. He wasn't sure what the orange flower was called, but someone commented on it, and told him it looked like a
Ranunculus flower
. At a conference on online openness in Tasmania, Levine was telling this story and how, thanks to posting his Flickr pictures publicly, he now knew the name of the flower. At the end of the story, someone put their hand up and said "it was me; I posted the name of the orange flower on your Flickr page."
Levine stated that there is "truly something magical about making these connections." Furthermore, he stated that there are really many rich connections that one can build online if one is willing to be open to sharing content. To read about more amazing stories on openness, check out Levine's blog.
From the possibility of spreading public knowledge through class assignments on Wikipedia and blog journals, to serendipitous connections, the web offers unlimited possibilities if you are willing to embrace openness. The workshop attendees walked away with a better understating of the unlimited possibilities that openness can offer in teaching a class, making knowledge accessible, and making long-lasting connections.
---
To view the full video presentation, check out the article 2012 CTLT Institute Videos.