Mobile phone technology is rapidly changing and growing in popularity. In 2011 there was a 50% increase in smartphone users in Canada, and substantial growth across the world. It is estimated that consumers use their mobile devices up to 17.3 hours per week for everything from entertainment to education. New generations of students are becoming more proficient at using mobile devices, and social networking helps shape their personal identification. This begs the question of whether educational institutions should incorporate these technologies into their curriculum or continue to ban cellphone usage in the classroom. The Social Mobile Networking for Informal Learning (SoMobNet) presentation, Mobile Devices and Digital Media for Social Networking in Learning, explored the use of mobile devices and social networking in education. Representatives from educational institutions in England and Italy came to UBC to discuss their studies.
The Socio-cultural Ecological Approach to Mobile Learning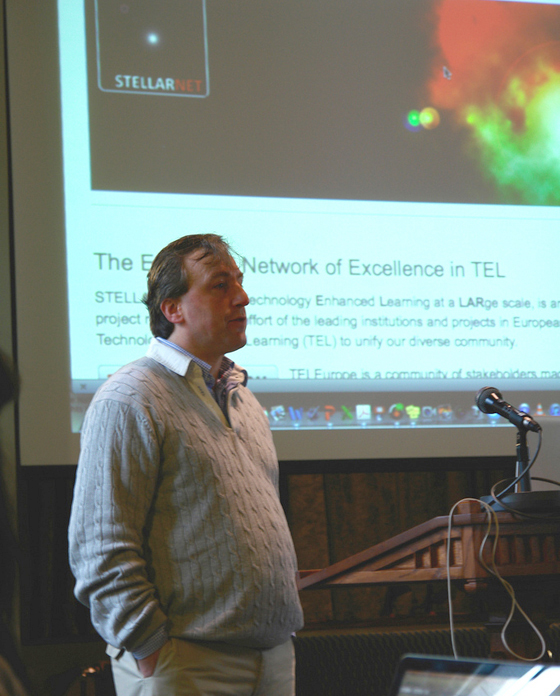 The first presenter was Dr. Norbert Pachler, a professor for the Institute of Education at the University of London. Dr. Pachler is a researcher for the London Mobile Learning Group, which aims to explain the relationship between technological developments and their potential for education and learning.
In today's Internet era, we are witnessing a significant and ongoing transformation of social interactions. Mobile devices allow immediate access to information, which can fundamentally change the shape and authority of the classroom. Learners are influenced by technology, and it helps shape their identity, social interactions, and learning in informal contexts. The idea of "de-schooling" has been considered with the increase of technology, contemplating an entirely online learning experience to replace schools. Although, Dr. Pachler does not agree with the notion of de-schooling, he does see the value of for mobile learning.
Dr. Pachler believes mobile devices are potentially good tools for learning. He believes that mobile devices should be considered within the context of learning and navigating new learning spaces. They allow meaning-making through discussions in different contexts, with a mixture of people from different social structures and cultural practices coming together.
The socio-cultural ecology model suggests that agency, cultural practices, and structures are underlying elements for technological growth in education. Agency is the individual's expertise and meaning-making already associated with mobile devices. Practices indicate that mobile devices are normalized and used on a regular basis for self-expression, communication, and user generated content and context. Structures are the fragmentation and discontinuity of information on mobile devices.
Dr. Pachler noted, however, that there are some negative effects of mobile influence. First, there is the fragmentation of information that is becoming increasingly difficult to decipher. Also, one has to consider how text making has changed and how it will impact student literacy. For example, aptitudes are changing and more students are consciously "cutting and pasting" information instead of doing the research themselves. Technology also depends upon one's social milieu and is different for different learners. Social economy, gender difference, and personal choice all contribute to one's choice to use social media and mobile devices for education.
Can Social Media and Mobile Devices be used to Design Transformative, Augmented Contexts for Learning?
Dr. John Cook, from London Metropolitan University, further discussed mobile learning in education. His project at the Learning Technology Research Institute (LTRI) successful explored the use of mobile devices for active and reflective learning. He showed that, if designed carefully, new digital media could promote and enhance learning.
His first example explored using mobile devices in landscape architecture for location-based time-travel, where perception and attention to detail are tested. Architecture students often examine 3D visualizations of buildings. For this class, students were sent to Yorkshire Abbey, in England, and were told to use their mobile devices to collect coordinates, pictures, and specs to create their own 3D visualizations. Dr. Cook stated that students, all of whom had visited the Abbey before, said they had never experienced it in quite this way.
The second example of mobile devices used for interactive learning was for an urban planning class. Students were taken on a tour of 'Ring's cross' with their mobile phones to document the socio-cultural evolution of the architecture in the area. The students took pictures of different schools in the neighborhood, ranging from prison style cement structures in the early 1900s, to single floor buildings with playgrounds from the 1970s. These examples showed the progression of architecture in the neighborhood.
They then compared their pictures and locations against previous documentation, such as a video of a religious parade that took place on the same street in the 1930s. Students gained a new perspective of the past and its effect on the present. The tutors commented that students moved from being passive to active learners, and Dr. Cook found that the students had higher levels of engagement.
Piagge Mobili: Digital Narratives Through Mobile Facebook
Dr. Maria Ranieri, from the Faculty of Education at the University of Florence, talked about both mobile devices and social media. Her project Piagge Mobili is an educational project based on mobile storytelling. Students created stories through mobile devices in combination with social networking sites.
The project was carried out in Le Piagge, a low-income district in Florence. The target age group was children aged 11-15 from low-income backgrounds. The students were told to take pictures of their surroundings, families, and friends and write comments about them. The action-research process of the project had three parts. The first stage required taking pictures and sharing stories. The second stage included incorporating social networking and sharing the mobile pictures and stories. For the third stage, students were required to pick one of the shared stories and turn it into a video production and dramatization. These exercises encouraged self-representation, self-expression, interaction, narrative, and new media literacy.
Students posted their pictures on Facebook, which helped them become familiar with mobile phones and become active users of digital media. Facebook helped improve student's capacity for self-expression and narrative skills of both themselves and their communities. The pictures expressed themselves and their environments in the way each individual perceived themselves.
The findings showed that when students were given mobile devices they immediately gained agency in their studies. Although there was some resistance, by the second stage all students became active in their assignments. The study showed that Facebook is a mirror of the students' identities, and although they felt anxiety when photos or videos were posted, the idea of creating a story via mobile devices was engaging. Dr. Ranieri stated that as further evidence of the success of the project, pictures drawn by students, before and after, showed an increase in attention to detail and use of space.
A Case Study of Professional Facebooking
The final presenter, Stefania Manca from the Institute for Educational Technology of the National Research Council of Italy, further discussed the use of social networking. She focused on learning in the workplace. Her case study of professional Facebooking investigated the use of social networking sites in the office environment, particularly among educational colleagues.
Her project documents the transition between "recreational Facebooking" to a new form of "professional Facebooking." Professional Facebooking uses social network sites (SNS) for professional purposes such as sharing work-related information and resources, to contacting people in different departments. The theoretical framework suggests that SNS bridges social capitalism, which is the exchange of useful, work related information, and the benefits individuals derive from emotionally close relationships such as family and friends.
The research focused on domain, network, and practice. She tested the impact of domains on group membership and whether the network distinguishes between different types of attitudes and behaviors, depending on the different levels of engagement in the group and between different levels of seniority. The main research question was whether engagement of professionals' sharing practices has an impact on "real life" and professional development?
There were two studies; the first addressed the managers of five professional Facebook groups and the second addressed the participants of the five professional Facebook groups. The first study investigated the characteristics and behaviors related to group management and the second explored the socio-demographic data of the use and participation in Facebook groups.
Findings from the first study showed that most group managers were females of more than 40 years of age, and with university degrees. Their reasons for forming the group were because they believed that social media represents the future and that these devices would increase participation and improve the process of sharing information and resources. The second study also showed a female majority, aged 29 – 59, and consisted of mainly of educational, and social and health professionals.
The conclusions showed that both groups were successful in sharing ideas and information through social network sites. Furthermore, the studies showed that senior members accessed the account more often that junior members, and only accepted and commented on sources they felt were legitimate ones. Facebook groups seemed to be used particularly for generating new offline projects rather than articulating previously established relationships.
Further support for professional facebooking came from Dr. Pachler and Dr. Cook from England. The London Mobile Learning Group also explored the use of mobile devices and SNS in the workplace. They tested a program in which people in an office environment "people tagged" coworkers, giving them recognition for their achievements. Although, there was a tendency to use the site to diverge one's own workload, it showed potential for interoffice relations, shared resources, and shared information.
The presenters offered workshop attendees the opportunity to reconsider the use of mobile devices and social media technology. Dr. Pachler, Dr. Cook, and Dr. Ranieri gave examples of how mobile devices and SNS can be used in education. Manca extended learning beyond the classroom and explored the use of SNS in the workplace. Their presentations showed a need for change in today's education and an acceptance of new resources and devices that could benefit student learning.