Five graduate students who recently completed CTLT's Certificate in Advanced Teaching and Learning were honoured with the prestigious Killam Awards. Established by the Killam Trusts, the endowment has supported more than 7,000 scholarships and fellowships since its inception in 1965.
The Killam Graduate Teaching Assistant prize recognizes exceptional UBC graduate students for their commitment and service in the classroom. CTLT is pleased to present a snapshot of their graduate work and their inspiration for teaching.
For Amir Maleki, the language of the universe is physics. But for the PhD candidate in mechanical engineering and applied mathematics, speaking that language takes patience.
"I was always good at math," he said. "I don't think there is a specific gene one has to have to be good at it."
Maleki's research at UBC focuses on the leakage in oil and gas wells and its possible groundwater contamination in western Canada. To conduct his research, he uses 3D and numerical modeling. At times, he said, the frustration can be overwhelming.
"In my third year of my PhD, it took maybe a year to get one model working," he said. "I had 10 copies of the code and it was just little things that made it not work."
It's that same patience that Maleki uses while teaching. The Killam Award winner instructs a class on heat transfer to about 130 undergraduate students. Maleki said the teaching prize is validation for the demanding work teaching assistants facilitate.
"I see it as a kind of currency," he said. "It lets me know my work is recognized and will be seen by more people."
Like many who transitioned out of an elite athletic career, Geri Ruissen, a PhD candidate in kinesiology, struggled with the anxiety that followed the end of her competitive swimming days.
It was while taking an undergraduate course in health psychology that Ruissen found an avenue for her anxiety. Her instructor asked students to conduct an experiment on themselves: get more sleep, meditate, start regular exercise. The objective was to find and change a regular health behaviour.
Ruissen began practicing yoga. In a few weeks, she saw that the benefits of her regular physical activity were akin to what many see after attending a therapy session. That initial experiment blossomed into a doctoral thesis topic.
Ruissen, who's in her second year of graduate work, is exploring how to make physical activity more enjoyable and sustainable for people who struggle with regular exercise.
"For a lot of people, physical activity often takes a backburner," she said. "It's often harder to maintain than taking medication, and it takes some time to figure out what's enjoyable for you."
Ruissen soon took up coaching. As a TA, the similarities between the pool deck and the classroom are evident.
"You have to develop perseverance and teamwork," she said. "As a coach, you're a facilitator of life skills — I think that can transcend the boundaries of the classroom. It's all about finding what you're passionate about."
Christine Sumner has always been inspired by animals. While her doctoral research at UBC examines calf welfare on dairy farms in the Lower Mainland, more broadly, her interests surround the integral part humans play in animal management.
"A lot of people have this romanticized perception of farming, but it is a fully functioning business," she said. "There is a motivation from the farmers to have a healthy, robust cow."
Sumner's research also includes the veterinarians working with dairy herds. Many vets are becoming more proactive when it comes to maintaining the health and wellbeing of their animal clients.
"Vets become a trusted adviser for the farmers," she said, "and there are increasing societal pressures to maintain and improve animal welfare."
Sumner collaborated on a benchmarking study that looks at the metrics of raising healthy calves. Many farmers saw an improvement in their calves' health immediately by adding one additional feeding, she said.
While working on her Certificate in Advanced Teaching and Learning at CTLT, Sumner recognized that much of her research included the core elements of teaching. Receiving the Killam Award for her work in the classroom was humbling, she said.
"It's very nice to get out of your bubble and engage in collaborative learning," she said. "I was inspired a lot by my cohort, so I owe a lot to them."
Emily Scribner has fond memories of her undergraduate days when she first helped teach a course.
Scribner is a PhD candidate in geological sciences with an emphasis on geoscience education. Her research focus looks at pegmatites — a body of granitic rock, sometimes containing large mineral grains and unique chemical elements, that has been introduced into a host rock — but her passion, she said, is teaching.
"I was never really interested in working at a mining site," she said.
Her first teaching assistantship during her undergraduate years was an intro-level mineralogy course. The interaction with students piqued her interest to pursue a career in the classroom, and one of her advisers, Lee Groat, encouraged her to enhance her skills with a Certificate in Advanced Teaching and Learning.
"There's such a large teaching community here, so there are many opportunities for the chance to teach my own class," she said.
Scribner will be taking on a larger role this summer as she instructs a distance learning course. Though the interactions may not be face-to-face, Scribner said engaging with her students about course material is still an overall goal. To encourage that, she keeps both physical and virtual office hours.
"I'm doing course videos where I talk about the upcoming assignments," she said. "I think it's more personable — the students can see that there's a real person teaching the course."
In addition to her evolving teaching philosophy, Scribner is also helping to facilitate a concept inventory for entry-level mineralogy courses to help faculty assess course objectives and outcomes.
Her recent Killam Award, she said, is affirmation that she's headed in the right direction.
"All the time away from my research — it is reassurance that the things you're doing in the classroom are working."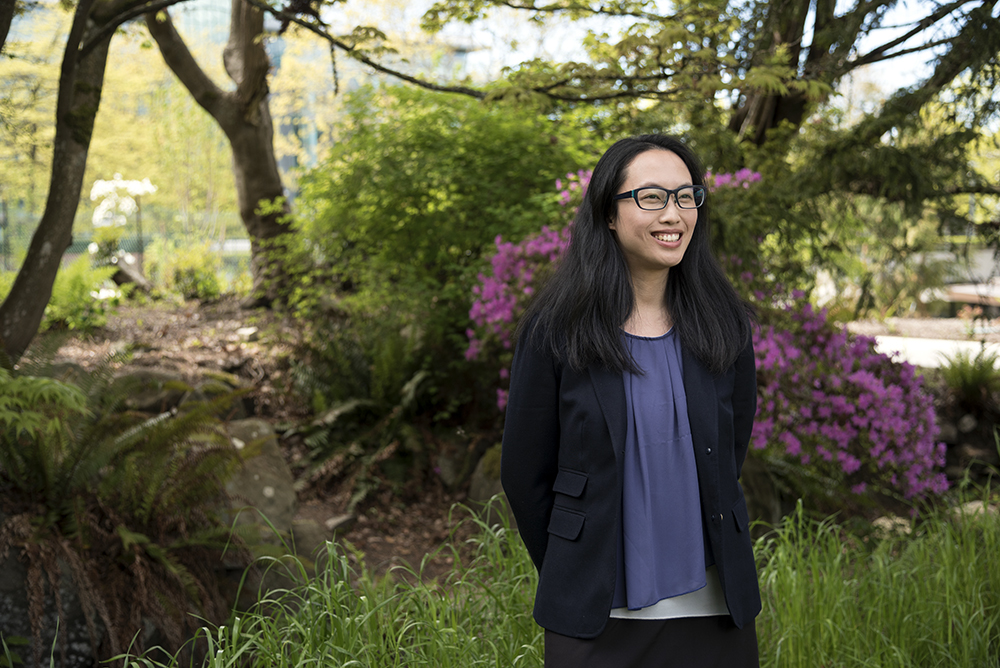 Mabel Ho has a natural curiosity about people. Ho grew up in Toronto and was inspired by the multiculturalism in Canada's largest city to conduct research on the Canadian immigrant experience.
The research for her PhD in sociology examines four distinct ethnic organizations and its members in order to illustrate a picture of contemporary Canadian settlement and connections to one's ancestral country.
"Canadian culture does a lot to expose someone to multiculturalism," she said. "But no one can really define what being a Canadian is — the definition is always changing."
Her background in studying sociology and political science also informs her teaching, she said. Teaching enables her to give back to the education community.
"I want students to feel a sense of play when it comes to learning," she said. "By building an inclusive and collaborative classroom, they have a chance to work together and learn from one another."
Instructing and interacting with students is something she hopes to continue throughout her professional career. Her completion of the Certificate in Advanced Teaching and Learning and her recent Killam Award pushes her one step closer to that goal.
"Teaching, it is really a great joy for me."
---
For more information about CTLT's Certificate Program in Advanced Teaching and Learning, CATL, please visit www.ctlt.ubc.ca/programs/all-our-programs/graduate-program-in-advanced-teaching-and-learning/.
To see a list of past Killam Award winners, visit https://academic.ubc.ca/awards-funding/award-winners/killam-teaching-service-winners#graduate.