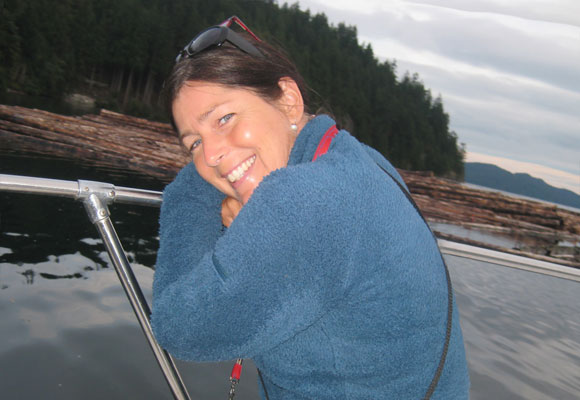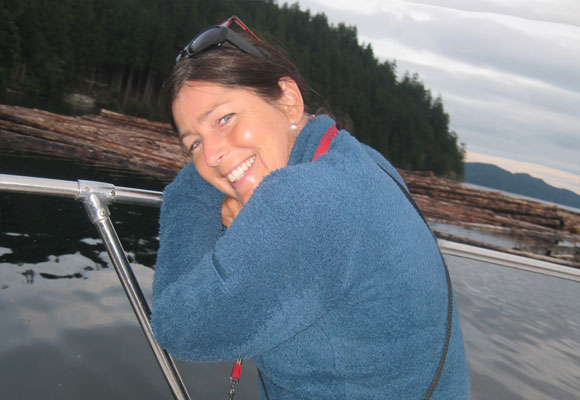 Shelley Fearnley is a 4th year Bachelor of Arts Visual Arts Major. She is "an example of a contemporary mature student who studies part-time and continues to work." While she does take some courses on-campus she has turned to distance education to overcome scheduling issues. "I live a ferry ride away from Vancouver, so I try to condense my UBC Point Grey campus commuting days to just two while maintaining a specific course load." With distance education she has found the balance needed to meet her goals.
Shelley has taken ENGL 303: Intermediate Composition and PSYC 307: Cultural Psychology, and is registered in ENGL 468A: Children's Literature for the winter term. She explains what she learned in ENGL 303; "we explored essential motivations and strategies for writing, constructed a research paper over time, and began to discover our emerging personal writing style from a considered academic perspective." This online course emphasized acquiring and polishing the tools fundamental to effective writing and reading that will help students to participate successfully in the discourse of the university and beyond. Shelley acquired these skills through the completion of a variety of course assignments and activities. "We engaged in inter-peer discussion postings, written personal essays, written consideration of course directed online media, written consideration of textbook assigned readings, a research paper, and a collaborative project."
PSYC 307 provided Shelley with invaluable insight into the "human differences and similarities across cultures from a scientific psychological perspective," as well as a little something extra. This online course is designed, through assignments and asynchronous chats, to help students realize their own cultural influences. This is based on the premise that we are all, to some extent, products of our cultural environments. Shelley is developing this understanding by "conducting surveys, considering course directed online media and responding to it, reading from journal articles and textbook resources, and taking online quizzes." Much like her ENGL 303 course, PSYC 307 is formatted dynamically with a repertoire of opportunities to showcase her understanding of the course content.
A concern for some who are new to distance education is the degree of interaction with professors and classmates throughout the course. Shelley explains that "in e-learning courses there is required interaction between classmates. In ENGL 303 we experienced stimulating intellectual contributions from the professor." In her PSYC 307 course Shelley's "professor wrote the textbook we use as a framework for the course so his voice is omnipresent (in a good way)." Access to assistance in online distance courses is just a mouse click away and in the case of ENGL 303 and PSYC 307, Shelley found that "they get back to you personally and quickly."
Considering all the interaction and discussion Shelley has been required to partake in she has a good understanding of some of the things to consider before jumping the gun and bombarding the discussion boards with comments. "The main difference with e-learning is that there is an absence of face-to-face contact and all the non-verbal cues that go along with it." She explains that a "problem inherent in a strictly digital voice is the mandatory and careful consideration of tone that becomes required in all correspondence — you must be careful to say exactly what you intend." It's useful to recognize that "the ideas discussed in e-learning are concrete (they have to be well articulated to be understood) and the response from peers and professors is written — so it is documented, and generated with a fair amount of effort." This differs from on-campus lectures because "there is often more work to be done by the student in distilling the main points." That is a very interesting distinction between distance and on-campus courses, and is something to consider before posting to a discussion online.
Notably, Shelley shares; "aside from course content, I leaned that e-learning is a valuable option for completing course work toward an undergraduate or possibly graduate degree." She explains that "after being away from the university setting for a while, distance education was a non-intimidating, self-directed way to re-enter academia." Shelley has also "benefitted from distance education by learning stimulating and challenging materials in a convenient setting, and by learning how to connect to the vast resources of the UBC digital and online library collections." Her life has been made easier because "her costs and stress levels have been reduced from less travel." When considering her education, Shelley summarizes "my distance education courses are an excellent component of my degree — however I do value and require my classroom/studio setting coursework. Generally I like the way the distance education and traditional courses work together, and I appreciate these divergent options for learning." Shelley has found the perfect balance between on-campus and distance courses, commuting and convenience, and learning and contributing in her courses.