By Wendy Chan on September 4, 2018
The Faculty of Arts wants each of their students to cross the graduation stage with confidence—confidence in their skills, their future and the potential of their degree. But in a faculty with more than 12,000 students across 25 programs, this is no easy feat.
Posted in Feature Slider, Features, Learning Tools
Tagged with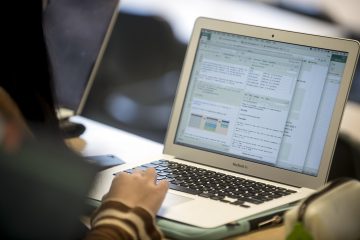 By Julia Burnham on May 24, 2018
When Dr. Peter Graf was an undergraduate student, the only time he was exposed to the work of his peers was when he went to pick up his graded essay in a box outside his professor's door. Curious, he picked up a stack papers and sat down to read through them. "I really wanted to […]
Posted in Faculty and Staff, Learning Tools, Students
Tagged with


By Terri Kennedy on August 31, 2016
Faculty and students are being consulted university-wide to evaluate future options for the core of our Learning Technology Environment. Your feedback is essential to capture the pedagogical and functional requirements that support faculty in meeting their teaching goals and students in their learning.
Posted in Faculty and Staff, Feature Slider, Features, Learning Tools
Tagged with