Finding the human side of virtual teaching and learning
When considering the importance of recorded class materials following UBC's emergency transition to remote instruction in 2020, it's tempting to think that members of the Department of Theatre & Film had an advantage. But Assistant Professor of Teaching in film studies Christine Evans is quick to note that her area of expertise is in film theory — joking that "if you were to hand me a camera, it would probably self-destruct."
Like many UBC faculty members, before 2020 Christine had never taught online. But just two months later, she'd become a champion of adapting to the new environment, developing a celebrated instructional video to support her colleagues with their fall course planning, that went on to be shared across departments and viewed over 400 times.
From "essentially indifferent" to "a bit of a zealot" for online teaching technologies, Christine shares how she's embraced the opportunities created by the challenges, and what she hopes we take with us as we return to on-campus teaching.
Adapting to a new online teaching environment
Following the speed of the mid-term transition to online teaching in March 2020, the announcement that summer courses would continue remotely meant a more thorough adaptation — and for Christine's first full term of remote teaching, she was on her own.
"It was a real adventure because I was doing it alone: no one else in my department was teaching a summer course online," she recalls. But after nine years of teaching at UBC with anywhere between three to five courses per term, Christine was comfortable with the idea of exploring pedagogical research and experimenting with new ideas in the classroom. "So I just started digging — into pedagogical scholarship on online teaching and finding stats, studies, and methods that all of these experts had come up with, and seeing if I could implement them."
In September, as her colleagues began preparing for the possibility of teaching their own courses remotely, she felt that not sharing her discoveries "would be in dereliction of collegiality". She developed a two-and-a-half hour instructional video for her colleagues "just to see if it made a difference," covering the basics of asynchronous lectures and sharing her findings and advice for creating dynamic and engaging course content. Initially shared with her Department of Theatre and Film colleagues, she soon found the video being shared widely and was gratified to hear that it had helped to support other instructors.
Assistant Professor Christine Evans shared practical online teaching advice with her colleagues, through a video shared in May 2020.
She admits there was something of an ulterior motive to the video as well. "This is going to make me sound a bit like a zealot, but I wanted to spread the good news about online teaching! And the good news is that students don't hate learning over the Internet." After discovering that a body of research showed a vast majority of students find online teaching as effective as in-person teaching, Christine aimed with the video to reassure instructors that students wouldn't outright reject changes to their learning environment. "So in some ways the major purpose of the video was to remind everyone — including myself — that online teaching was not something to fear."
Taking advantage of the possibilities
While her initial explorations focussed on finding ways to teach remotely in a dynamic and effective way, as time went on Christine started to look for what new opportunities were possible in the online environment.
She sought out new ideas through UBC offerings and beyond, explaining, "I found that the online teaching webinars run by the CTLT were a fantastic resource, as well as sessions run by UBC IT and commercial online teaching platforms." She also "wholeheartedly recommends" UBC-developed student peer review tool ComPAIR, which she discovered during online teaching and used for student peer- and self-evaluation. "ComPAIR made the whole process painless, simple, and fun, and I will continue using it in both my in-person and online courses."
Christine's new-found confidence with online teaching technologies created opportunities to explore new forms of scholarship for her students as well. Where previously she felt that she lacked technical knowledge of video editing tools, in early 2021 she created a "trimmed down" version of her instructional video intended for faculty to teach a 400-level undergraduate seminar centered on student-developed video essays.
"Video essays are a relatively new form of engagement in film studies," she explains. "It's increasingly becoming a really celebrated way of dynamically engaging with cinema scholarship. And I was amazed with the results — the work that the students produced was just incredible."
"This thing that really should have disconnected all of us and made us feel super-isolated, was actually something that spurred that much more effort and work into creating connections."

– Christine Evans, Assistant Professor of Teaching, UBC Department of Theatre & Film
Not only did her students embrace the challenge of creating video essays, Christine realized that this was an example of a course that took advantage of the opportunities afforded by learning online. "I think that there was perhaps something rewarding for the students that, in a year where everything was precarious, up in the air, they were able to work with their scholarship and their ideas in a different way."
Connecting with intention
Beyond the changes to course structure and class delivery, Christine found that learning, teaching, and working remotely also changed how her students and colleagues approached communication and collaboration — for the better.
She explains, "What I would evangelize most about is that this disconnected time — having to join lectures and meetings sitting in your own house, my students being able to see my messy study — this thing that really should have disconnected all of us and made us feel super-isolated, was actually something that spurred that much more effort and work into creating connections."
While she is grateful for the positive feedback from her students this year, what really surprised her was the volume of communication from her students — "I think I've received more person-to-person feedback from students this year than I ever have in my entire teaching career, which has been really edifying."
Christine used her video as an opportunity to share what she'd learned about learning technologies and online teaching pedagogy — some of which she plans to continue using even once back on campus.
The change extended across student discussions in Zoom breakout rooms to faculty-level meetings. "When you're in person, you have all kinds of casual exchanges in office hallways that you don't even think about." Christine feels like the increased difficulty in communicating has led to more involvement and "an intentionality of communication".
And so, while Christine eagerly plans her on-campus classes for the fall, she recognizes that the challenges of this difficult time instigated some changes that she'd like to see continue. "This really woke all of us up and made us appreciate that collaborative thinking really does produce better, clearer results — results that everyone can understand better because everybody contributed a little something to it."
What we can carry forward
As most of the UBC community begins to return to the physical campus environment, Christine is eager to return to face-to-face teaching. But she hopes that — individually and as a teaching and learning community — we can all take some of the things we've learned and experienced forward with us.
She notes the challenges and pain of the past 18 months, and is quick to highlight that these shouldn't go unacknowledged. However, she would also like to celebrate the attitude and collective work of the community to push through the hardships. Looking ahead, she says: "Hopefully we can carry that spirit forward of using obstructions towards more creative and collaborative thinking. I think that that is a good and healthy way to think about what happened this year."
And despite her enthusiasm for returning to the on-campus classroom, she can still see herself exploring the opportunities of digital spaces. "When I think about online learning in the past, it was only ever considered as an alternative. It wasn't preferable and it wasn't human." Following so many instructors experimenting with online teaching for the first time, she now finds "it just opens up ever more opportunities. It's also why I plan to champion online learning for the future, as something that can continue to develop and grow," she shares, "because now it has a really human element: we all had to do it."
---
Learn more about the Guiding Principles for Online Course Adaptations on UBC's Keep Teaching website.
Watch Christine's May 2020 video on asynchronous course materials online.
More stories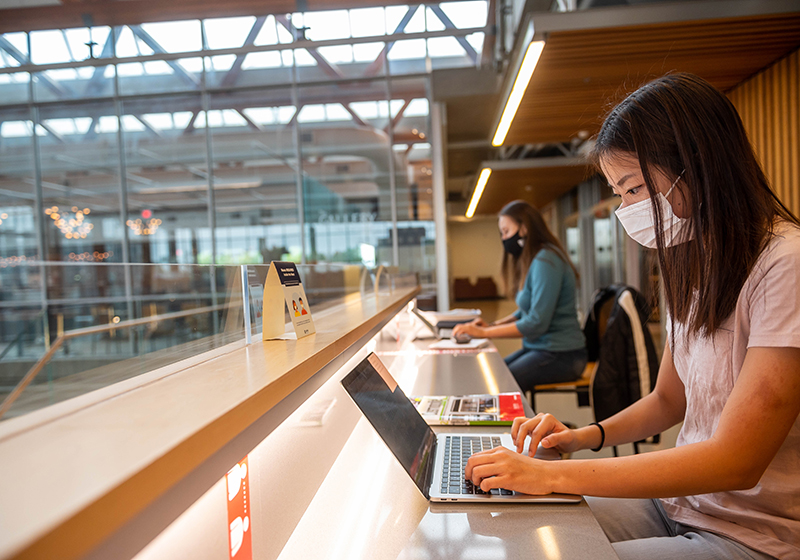 The transition to online: One year later
To introduce the series, Associate Provost, Teaching and Learning Dr. Simon Bates and Provost Office Fellows in Online Learning Dr. Catherine Rawn and Kieran Forde reflect on UBC's transition to online teaching.
Bringing compassion to the online learning environment
In this story, learn how two members of the teaching and learning community relied on compassion and care to create memorable learning experiences for students.
Sharing community values from a distance
The Haida Gwaii Institute team explains how they relied on their community values to provide experiential and transformative learning opportunities from a distance.
Experiential lab learning: stories from a year of online teaching
In this story, three instructors from the Faculty of Science explain how they took the challenge of online teaching and turned it into an opportunity to experiment with learning.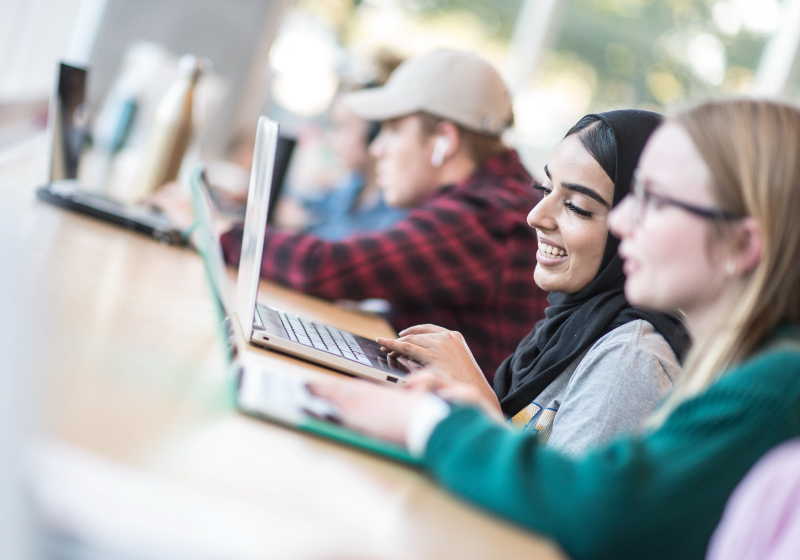 Bridging the accessibility gap through Universal Design for Learning
In this story, two instructors with previous experience with online teaching share their experience and tips on the key aspects to consider when implementing Universal Learning for Design (UDL) into a course.
Rewarding integrity: Changing the conversation on cheating
In this story, Dr. Laurie McNeill shares the personal journey that took her from "busting cheaters" to a more educative approach to academic integrity.