The transition to online:
One year later
In mid-March 2020, UBC worked to retool our courses under the intense emergency circumstances of a global pandemic. Through sharing our collective expertise and experience, and the hard work of countless members of the UBC community, teaching and learning has continued — and in some cases even produced innovative new ways of learning, teaching and working. The Keep Teaching story series aims to share and pay tribute to the work and experiences of UBC faculty through this time.
To introduce this series, Associate Provost, Teaching and Learning Dr. Simon Bates is joined by Provost Office Fellows in Online Learning, Dr. Catherine Rawn and Kieran Forde in looking back at our transition to online teaching, the development of UBC's Guiding Principles for Online Course Adaptations, and what comes next.
---
A moment of change
At the time of writing this, we have just now passed one year from UBC's emergency transition to online learning and teaching. What a year it has been.
As this emergency unfolded in March 2020, few of us would have imagined that we would still be working, teaching and learning online 12 months later. Our planning was for the following few months, and so while a great deal of work went into developing and sharing tools and resources, including the Guiding Principles for Online Course Adaptations, our immediate goals had to be to support faculty and students through to the end of term, then into the summer, with enormous course redesign task ahead of fall 2020.
From the first Public Health Order to close face-to-face operations, everyone knew that this transition was nothing as simple as taking courses and just 'moving them online'. In many ways, the courses needed to be redesigned, both technologically and pedagogically. Our teams anticipated that UBC faculty would be seeking guidance, structure, and scaffolding as they re-examined the work of teaching and learning with these new restrictions in place, all while bearing their own experience through a pandemic.
With the benefit of hindsight, we can now begin to look at all that we have learned and created as a university community through the challenges of this time, as well as the resulting changes we can see emerging from it on the teaching and learning journey ahead.
Starting with compassion
The idea of developing the guiding principles document was to support faculty as they figured out how to keep the learning experience as strong as possible for our students learning remotely. Yet, from this moment of uncertainty and stress, a key principle was centering compassion and care — it is in the document as principle one but, in some ways, it was and is our principle zero. It became a mantra, a signpost that we would refer back to time and time again.
Many faculty members have long brought compassion to their work with students and have cared deeply for their wellbeing. But the events of the last year have reframed the relationships, and opened a level of compassion that somehow feels deeper, broader, and more centred than before. Through shared experience, there has been a willingness to open up and see that common humanity. This compassion for common humanity extended to include faculty and staff. We must offer this same compassion to each other, and to ourselves, in dealing with what has been a deeply challenging situation for everyone in some ways, and for some folks especially so.
Responding as a community
The work that was accomplished in this time of tremendous stress and change is a remarkable achievement. The six high-level guiding principles weren't something we created — they were themes that recurred in the conversations, deliberations, and writing of more than 100 faculty and staff over a short few weeks in April and May last year.
The entire process was about showcasing the expertise within our community of faculty and staff, giving a space for people who were really engaged and willing to throw themselves in and develop these resources. The result was a huge amount of work in a very short period of time, which ended up creating capacity that rippled out through the UBC community — there was a real sense that this was a moment that people needed to respond to.
We would really like to highlight the tremendous work of all contributors from our UBC Vancouver community who contributed, from the six working groups and beyond, especially the team leaders: Steven Barnes, Claudia Krebs, Susan Grossman, Tiffany Potter, and Roger Wong. There were so many people involved in doing the hard work of gathering and developing these resources, in such a challenging time, and their work has been invaluable.
The changes to come
None of us would have chosen the situation in which we have found ourselves. The things that we have done and learned will have an impact on the nature of teaching and learning at our institution far beyond our current set of circumstances. This pandemic has costs which have been — and continue to be — great in many ways. Despite those costs, we suspect that, collectively, our UBC community has fared better than we might have thanks to the common goodwill of students, faculty and staff, and all the other people working behind the scenes support our teaching and learning mission.
Collectively, we have so many more tools in our toolkit than we had a year ago, and certainly a lot of stories to share. As we begin the process of rebuilding and navigating a return to campus, we are going to continue to need these principles. The conversations they have opened about the essence of teaching and learning across our many local contexts that comprise UBCV may, in some ways, just be beginning.
---
Dr. Simon Bates is UBC Associate Provost, Teaching and Learning in the Office of the Provost and Vice-President, Academic.
Dr. Catherine Rawn is a Professor of Teaching in the Department of Psychology, and Provost Office Fellow in Online Learning, Faculty.
Kieran Forde is a PhD student in the Department of Curriculum & Pedagogy, and Provost Office Fellow in Online Learning, Students.
Learn more about the Guiding Principles for Online Course Adaptations on UBC's Keep Teaching website.
More stories
Bringing compassion to the online learning environment
In this story, learn how two members of the teaching and learning community relied on compassion and care to create memorable learning experiences for students.
Sharing community values from a distance
The Haida Gwaii Institute team explains how they relied on their community values to provide experiential and transformative learning opportunities from a distance.
Experiential lab learning: stories from a year of online teaching
In this story, three instructors from the Faculty of Science explain how they took the challenge of online teaching and turned it into an opportunity to experiment with learning.
Finding the human side of virtual teaching and learning
Like many, before 2020 Christine Evans had never taught online. Just two months later, she was championing the possibilities of digital spaces. She shares what she thinks changed for the better.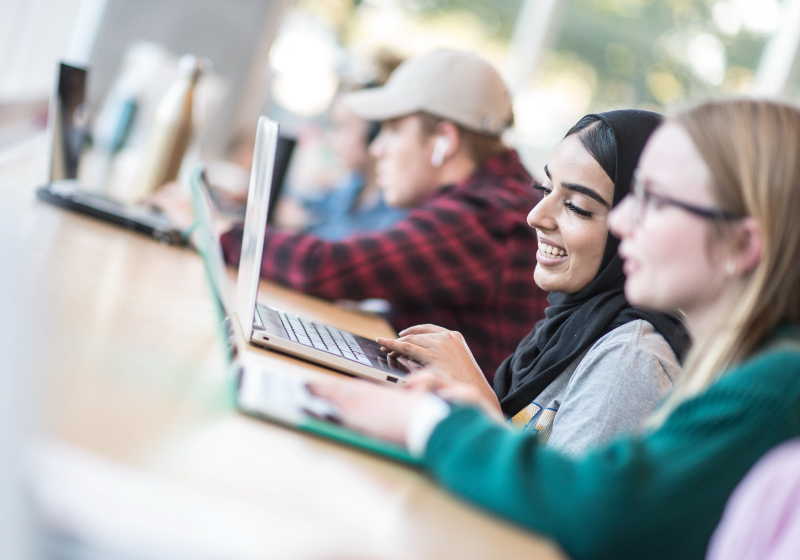 Bridging the accessibility gap through Universal Design for Learning
In this story, two instructors with previous experience with online teaching share their experience and tips on the key aspects to consider when implementing Universal Learning for Design (UDL) into a course.
Rewarding integrity: Changing the conversation on cheating
In this story, Dr. Laurie McNeill shares the personal journey that took her from "busting cheaters" to a more educative approach to academic integrity.