By Heather McCabe on September 3, 2018
A TLEF project helps School of Architecture & Landscape Architecture students build and use 3-D printing, laser cutting and robotic milling.
Posted in Feature Slider, Features
Tagged with





By Terri Kennedy on May 28, 2018
On May 28, 2018, Professor Andrew Szeri, Provost and Vice-President Academic announced the appointment of Dr. Simon Bates to the role of Associate-Provost, Teaching and Learning.
Posted in Faculty and Staff, Features
Tagged with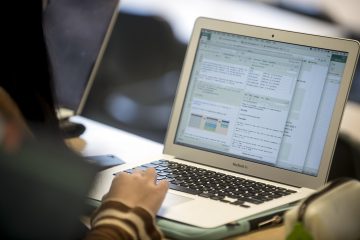 By Julia Burnham on May 24, 2018
When Dr. Peter Graf was an undergraduate student, the only time he was exposed to the work of his peers was when he went to pick up his graded essay in a box outside his professor's door. Curious, he picked up a stack papers and sat down to read through them. "I really wanted to […]
Posted in Faculty and Staff, Learning Tools, Students
Tagged with



By abigail saxton on April 4, 2018
Join us for the 10th annual Celebrate Learning Week, held on the UBC Vancouver campus from April 30 to May 6, 2018. Registration is now open.
Posted in Feature Slider, Features
Tagged with