Senior Management
---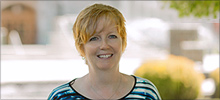 Associate Director, Teaching & Learning Professional Development
kele directs the development of comprehensive plans for professional development, resource development and community engagement of faculty and graduate students involved in teaching face-to-face, blended and distance courses, in support of the university's strategic teaching and learning goals. She negotiates partnerships with faculties and, in collaboration with localized teaching and learning units, develops and implements professional development programs (e.g., one-to-one faculty assistance and workshops on teaching skills development, assessment and evaluation of student learning, effective teaching and learning strategies, etc.) in order to foster teaching and learning excellence within Academic Units and across the University. Her role has University-wide scope, supporting the efforts of faculty, students, and staff who engage in CTLT's programs and services to advance their learning and teaching goals.
Team (listed alphabetically)
---
Lead Facilitator, Graduate Programs
Jen is a member of the Graduate Student Facilitator Team where she is an Instructional Skills Workshop (ISW) facilitator and a Facilitator Development Workshop (FDW) trainer. In her role as the Lead Facilitator of this team, she provides support to her colleagues, leads professional development for the team, and works behind the scenes to ensure the ISWs run smoothly. Jen is currently pursuing her PhD in Pharmaceutical Sciences.